Comment: In light of readers' feedback regarding the following article, a few comments:

The 'science' in this article isn't really defensible. It's the 'newsworthiness' of the story that stands out for SOTT.net, just the fact that ANY kind of space threat scenario is being publicized.

A couple of possibilities as to what is going on here:

The author is 'leaking info' which, though not scientifically accurate, gets that message out there that 'something wicked this way comes'.

Alternatively, the author is writing deliberately rubbish stuff that can easily be debunked, thereby debunking anyone by association who notices that something is definitely 'up'.

Maybe a bit of both is at work; maybe something else entirely. Journalistic standards aren't exactly what they might once have been, so this could simply have been a rush-job to meet the deadline for a 'sensational' story.

But consider this: while the UK's Daily Express is 'tabloid trash', it's also owned by a media baron, a British media baron, no less, who are notoriously good at 'info-crafting'. As such, most, if not all, of its content, like all MSM, is pretty carefully vetted. If you get to hear about something, then there's generally a political reason why you're getting to hear about it.

So, SOTT.net is re-posting this article - for posterity's sake if nothing else - to take note of the fact that a British media outlet has just alerted sizeable numbers of people to the reality of imminent cosmic threat, whether intentionally, as part of a 'tar-baby' maneuver, or otherwise.

The bottom line is that the planet today - in contrast with a decade ago - IS being peppered with more and more space rocks, and more and more people are starting to take notice.

The article itself may be 'noise' - and most, unaware of the extent of the space threat, would be correct to dismiss it - but we happen to know for a fact that there is a 'signal' behind it.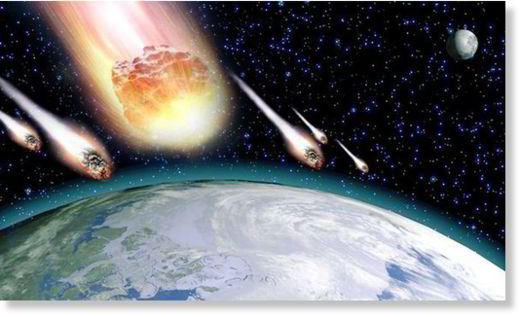 Asteroids could rain down on the earth for 100 years, shocked experts have just warned.
A previously unknown asteroid belt has been located in deep space and is now hurtling towards our part of the solar system.
It means a 'global killer' could collide with Earth as soon as 2020, wiping out life as we know it and changing the climate for millennia.
The terrifying predictions came as NASA revealed disturbing new data showing 400 impacts are expected between 2017 and 2113, based on new observational data of objects seen in space over the past 60 days.
Most will have a maximum diameter of around 100 metres - the size of seven double decker buses - and the potential to cause significant damage.