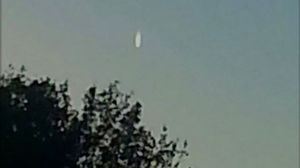 More reports of meteor sightings on Friday night are coming in from Indiana. Nearly 700 people across six states already reported sightings of meteors Friday morning.
The
American Meteor Society (AMS)
said witnesses from Ohio, Illinois, Indiana, Kentucky, Missouri and Wisconsin reported a bright light moving across the morning sky.
An estimated trajectory computed from the witness reports shows the meteor was traveling from the west to east and ended somewhere over eastern Indiana.