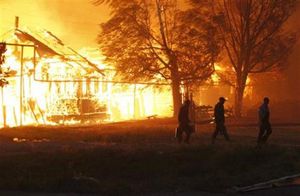 Forest fires swept across central Russia on Friday, killing at least five people and forcing the evacuation of thousands during the hottest summer since records began 130 years ago, officials said.
Fanned by strong winds, raging fires ripped through woods and fields already scorched by the heatwave, complicating the efforts of firefighters.
"We don't know where to go," said Galina Shibanova, 52, standing outside the charred remains of her family home in the town of Maslovka in the Voronezh region, about 500 kilometers (300 miles) south of Moscow.
"We called the emergency services, and not one person answered the phone," she said, adding at least 50 homes had been destroyed.