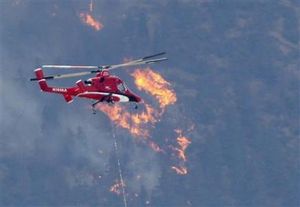 A monster Colorado wildfire raging near some of the most visited tourist areas in the state took a turn for the worse on Tuesday as hot winds pushed flames north, prompting the evacuation of 7,000 more people, officials said.
Colorado's so-called Waldo Canyon fire sent a mushroom cloud of smoke nearly 20,000 feet into the air over Colorado Springs near Pikes Peak, whose breathtaking vistas from the summit helped inspire the song "America the Beautiful".
Closer to the blaze, which has been fanned by winds blowing into the Southern Rockies from the prairies to the east, trees were visibly twisting from the heat of the flames.
The latest evacuations brought the total number of people forced from their homes to about 12,000 as the blaze posed a renewed threat to hundreds of dwellings and appeared to have roared to within about a mile of the U.S. Air Force Academy grounds in Colorado Springs.