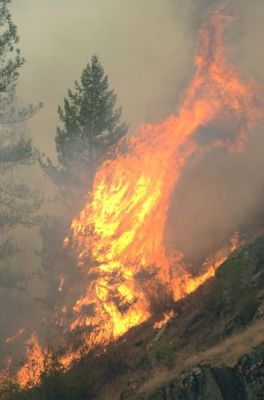 A 70-year-old woman was killed when she fell while preparing to flee from a wildfire expanding quickly east of Lewiston, the Idaho County Sheriff's Department said Saturday.
Authorities said
Cheryl Lee Wissler
of Adams Grade died Friday from a head injury she sustained when she fell.
An estimated 30 homes and 75 other structures were lost to the blaze, the sheriff's department said. The fire is surrounding the small town of Kamiah, about 60 miles east of Lewiston, and burned to the edge of Clearwater River, directly across the water from downtown.
The blaze is one of dozens taxing fire crews across the Pacific Northwest. Wildfires have destroyed dozens of homes in Oregon, Idaho and Washington, forced thousands of evacuations throughout the region and left at least 9,000 without power in eastern Washington.
Many of the fires were started by lighting from a storm that swept through the region. They grew quickly in hot weather, fueled by bone-dry vegetation.
Oregon's top forestry official pleaded with residents and visitors to be extremely careful not to set fires.
"Now is the time for vigilance and fire awareness," Oregon State Forest Doug Decker said in a statement.
At the Idaho blaze, more than 750 people were assigned to fight several fires that together have charred more than 50 square miles in the area near Kamiah.
The region was already struggling after severe drought damaged wheat harvests, with farmers watching as their normally plump wheat kernels grew pinched and stunted from the lack of water. Though most of the wheat had been cut before the fires started, bone-dry stubble still covers the prairie and the forests surrounding Kamiah are parched.
Many of the residents are farmers and ranchers. It's not yet clear how much livestock has been caught in the fires.
Fire information officer
Jeremy Olson
said that forecasters expect the wind to die down for the next few days. But Olson said the region is so dry that very active fire behavior will continue throughout the weekend.
Meanwhile, the
Oregon Department
of Forestry said at least 26 homes were
destroyed by a lightning-caused complex of fires burning south of John Day.
Crews worked Saturday to assess the damage, but access to the area was treacherous because of burned wooden bridges, rolling rocks and hazardous trees, fire officials said.
Gov.
Kate Brown
used her authority Friday to mobilize fire crews from across the state. They drove overnight to John Day in a remote section of eastern Oregon, where they'll work to protect homes and other property from flames that had burned 50 square miles by Saturday morning.
To the north, fire crews worked to protect the town of Chelan, Washington, from fires burning on three sides. More than 1,000 people were told to evacuate the area near Wenatchee, and hundreds of homes and businesses were threatened,
the Seattle Times reported.
"We know that we lost quite a few buildings — some residential, some commercial buildings — but we don't have a number right now, and we're still actively engaged in trying to save structures," said
Rob Allen
, deputy incident commander working on the Chelan area fires.
The lighting-caused fire, which started in June, has grown to more than 60 square miles.
The Chelan Public Utility District said more than 9,000 customers remained without power Saturday after the fire destroyed more than 30 poles supporting transmission lines. Crews were working to replace them in areas where it was safe to do so, the utility said.
The hospital in Chelan chose to evacuate some of its patients to a hospital in Wenatchee, 50 miles south, but the emergency room remained open,
Chelan County Emergency Management
officials said. Several nursing homes and assisted-living centers also chose to evacuate, officials said.