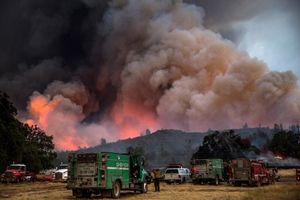 A rapidly growing wildfire burned largely unchecked in Northern California's ranch country on Friday after destroying three homes and forcing hundreds of people to flee.
The blaze, which has nearly doubled in size from late Thursday morning to scorch some 15,000 acres (60 square km) of California's rural Lake County, was
one of 18 large fires under attack by 8,000 firefighters statewide
, forestry authorities said.
About 500 people were ordered to evacuate, with emergency shelters opened for the evacuees and facilities set up to hold their livestock, officials said.
The California Department of Forestry and Fire Protection said the blaze was fueled by strong winds and grew quickly during its first 12 hours, devouring three homes and numerous outbuildings.
The so-called Rocky Fire started on Wednesday afternoon in the foothills and canyons on the inland flanks of California's northern coastal range, about 110 miles (180 km) north of San Francisco.
Almost 1,000 firefighters were working on the blaze with the help of air tankers and helicopters. Crews took advantage of cooler temperatures overnight but had only been able to draw containment lines around about 5 percent of the flames by Friday morning.
Smoke from the blaze was visible up to 80 miles (130 km) to the south in Napa, one of the state's famed wine-making regions, where a separate fire burning for the past week forced the evacuation of 200 people on Wednesday.
The Wragg Fire, near Lake Berryessa in Napa County, was almost 90 percent contained by Friday morning after charring over 8,000 acres (32 square kms), fire officials said.
North of Sacramento, a 2,300-acre (9.3-square km) blaze had threatened some 1,800 homes and other structures at its height, but 75 percent of that fire had been contained by Friday morning
and evacuation orders were downgraded to advisories, officials said.
The fires have been stoked by high winds, low humidity and a heat wave that has brought triple-digit temperatures to much of the parched state.
In the Southern California county of San Bernardino, east of Los Angeles, officials posted a $75,000 reward on Tuesday for information leading to the arrest and conviction of drone hobbyists whose aircraft have interfered with recent firefighting efforts there.