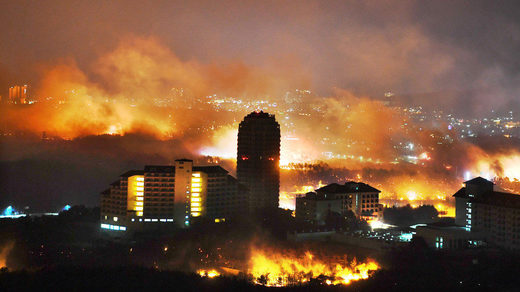 Thousands of firefighters and military personnel in South Korea are engaged in a major operation to contain wildfires which have so far killed at least one person, injured 11 and forced the evacuation of over 4,000 residents.
The blaze, one of the county's largest-ever wildfires,
broke out in Gangwon Province near Sokcho and Gangneung in the mountainous north-eastern region, close to the North Korean border. It has already been declared a national disaster.
"It is extremely rare for fire trucks to be dispatched on a nationwide scale,"
an official from South Korea's fire agency said as cited by the
Korea Herald
.
It is believed to have been started by a malfunctioning electrical transformer which sparked and ignited the fire.
It was subsequently fanned by strong winds.