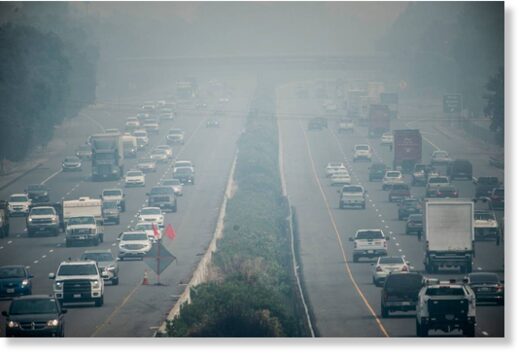 Dense wildfire smoke that blanketed the state for weeks in August and early September — contributing to dangerous air quality from the San Francisco Bay area to Sacramento to Fresno and beyond — may have contributed to the deaths of hundreds of Californians and sent thousands more to the emergency room, Stanford University researchers say.
Nearly 30 people have died in California wildfires that have destroyed millions of acres and continue to burn into late September. For weeks, skies above the Golden State were soiled brown or an apocalyptic orange grabbing headlines of a state on fire.

But "the total cost in terms of human lives and health is likely far larger due to the immense amount of smoke that has been inhaled over the last 3 weeks by the very large number of people living on the West Coast," said researchers at Stanford's Center on Food Security and the Environment.
Massive amounts of smoke pumped out from California's infernos sent soot levels soaring across Northern California from Silicon Valley to Fresno and here in the Sacramento region, with lethal consequences, especially for the state's senior population, the researchers showed.