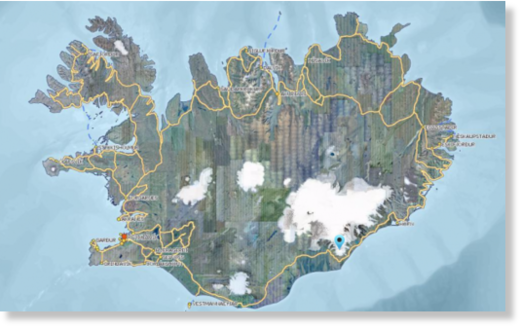 Several relatively strong earthquakes have been detected in one of the most powerful volcanoes in Iceland since yesterday.
A total of 15 quakes have been recorded in the volcano in the past 48 hours,
including two significant 2+ quakes: A 2.7 magnitude quake yesterday, Tuesday evening, at 20:13 and a second 2.6 magnitude quake today Wednesday at 12:45.
Volcano kept under close surveillance
According to the Seismic Monitoring System of the IMO the epicenter of yesterday's 2.7 magnitude quake was in the Southeastern part of the volcano's caldera
at a depth of only 100 m (330 ft),
while today's 2.6 magnitude tremor had an epicenter in the norther edge of the caldera at a depth of 2.2 km (7,200 ft) below the surface.
Historically earthquakes have been extremely rare in Öræfajökull. Recently the volcano has been showing significantly greater levels of activity.