Heavy snowfall in upper areas of Pakistan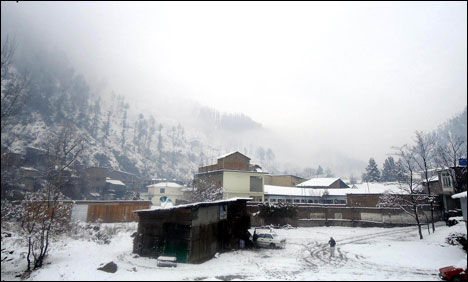 Almost the entire country was in the grip of a cold wave on Monday, with a number of cities and towns struck by temperatures ranging between -17C and -21C.
The federal capital went through its most uncomfortable day in 46 years as the mercury plunged to three below Celsius.
And even Karachi, known for its mild winters, was not far behind, recording a minimum temperature of six degrees Celsius. The city is likely to face more cold on Tuesday and Wednesday.
A minimum temperature of -2.8C in Islamabad had been recorded in 1984, but the lowest temperature recorded in the city is -3.9C in 1967.
Officials said that the wave was the fallout of extreme cold weather conditions in Europe as cold winds coming from there dry up after crossing the Central Asian region.
These cold and dry winds are also delaying the winter rains as the strong currents push the warm, moist winds rising from the Arabian Sea.
"These systems coming from the northwest last up to five or six days," Meteorological Department Director Dr Mohammad Hanif said. The Met Office forecast very cold and dry weather for Tuesday in most of the country, with cloudy conditions along with rain and light snowfall over the hills at places across a swathe stretching from Gilgit-Baltistan to Lahore and Sargodha divisions.
"But these are not the regular winter rains. They will only bring light rain because these clouds are part of the westerly wave that has separated from the European system and has reached up to Kashmir," Dr Hanif said.