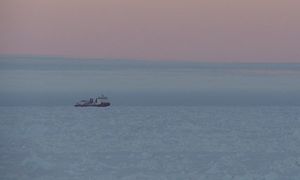 The Guardian's man on the icebound vessel reports on the freezing conditions as the expedition waits for assistance
Cape de la Motte, East Antarctica: the
Xue Long
appeared as a dot on the horizon, against a bright blue sky, to the starboard side of our ice-locked ship just after dinnertime on Friday evening, local time.
After two days of intense blizzards, with biting cold that had forced us to spend all our time below decks, the break in the weather and the approaching rescue had put the crew and passengers of the MV
Akademik Shokalskiy
in good spirits.
With temperatures at a pleasantly bearable -1C, some of the crew went on to the ice surrounding the ship in all directions and killed time by making igloos. The rest remained on board and watched the Chinese icebreaker through binoculars as it appeared to make steady progress, silently zigzagging through the ice, from the upper deck of the ship.
As we waited, penguins, apparently confused by the sudden appearance of a solid mass caused by the compacting of ice floes around our vessel, wandered past at regular intervals, looking for the shoreline.