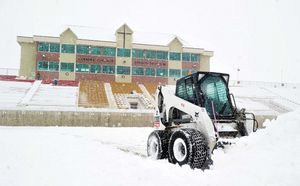 Helena crushed a snowfall record Thursday, and was on the way to doing the same Friday as winter storm Brutus brutalized the town.
Helena saw 8.8 inches of snow Thursday. The previous snowfall record for Nov. 8 was 2.3 inches, set in 1903.
Zach Uttech, a meteorologist with the National Weather Service in Great Falls, said the south-west flowing air mass from Canada has created an ideal scenario for widespread snow over the region, blanketing Montana with an abundance of snow.
Total snow accumulation could hit nearly 14 inches in downtown Helena, which would put Thursday and Friday among the top for highest snowfall in a two-day period for the month of November, Uttech said. As of noon on Friday, the two-day total was 12.6 inches.