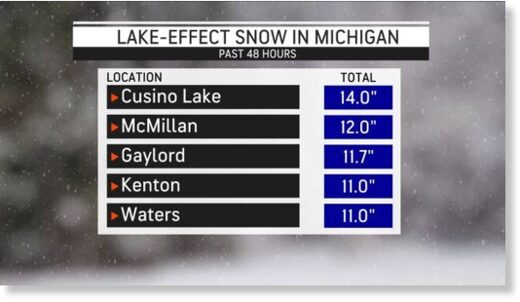 The first significant lake-effect snow of the season dropped
nearly a foot of snow near the shores of the Great Lakes Tuesday into Wednesday. The snowfall was enough to transform parts of Michigan's Lower Peninsula into a winter wonderland and break into the record books at one weather station in Michigan.
Snow totals topped 11 inches in northern parts of northern Michigan
.
Gaylord,
Michigan, picked up 11.7 inches of snow on Tuesday, which set a
record for the heaviest snowfall in a calendar day in November
. That amount also ranked as the sixth highest single-day snowfall in any month. Records have been kept at the National Weather Service (NWS) office there since 1998.
In Gaylord, which is about 225 miles north of Detroit and just to the east of the upper reaches of Lake Michigan, NWS meteorologists posted a
slow-motion video on Twitter
showing large snowflakes coming down outside of the office there on Tuesday.