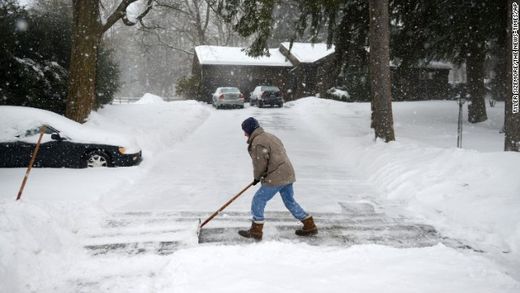 As if the East Coast hadn't gotten the point by now, Mother Nature drove it home yet again -- that this is winter, hear it roar.
The storm that threw down a concoction of sleet, snow and freezing rain over the South is pounding an icy path from Philadelphia to Maine Friday.
It is burying many places in the Northeast under up to 20 inches of total snow accumulation, the Nation Weather Service says.
The skies will be teeming with flakes falling at a rate of 2-3 inches per hour in the northernmost regions. Massive piles of snow will become a stumbling block to most people there.
But closer to Philadelphia, freezing rain could make things dangerously slick, the weather service said.
Winter storm wallops Northeast Snowplow kills pregnant woman in NYC Vehicles slipping and sliding in the storm Storm might ruin Valentine's Day
Even in the North, where people are more accustom to dealing with winter's trickery than their compatriots farther South, fast-falling snow on Thursday caused tractor-trailers to jackknife. It prompted authorities in New York to ban commercial traffic on Interstate 84 -- a major east-west highway running through the state.