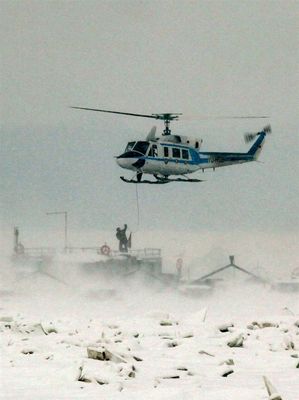 Bucharest, Romania - Military planes and police helicopters flew in tons of emergency food to snowbound villages and ships in the Balkans on Monday, after blizzards so fierce that some people had to cut tunnels through 15 feet (4 meters) of snow to get out of their homes.
Since the end of January, Eastern Europe has been pummeled by a record-breaking cold snap and the heaviest snowfall in recent memory. Hundreds of people, many of them homeless, have died in the bitter cold and tens of thousands have been trapped by blocked roads inside homes with little heat.
Authorities declared a state of emergency Monday in eastern Romania, where 6,000 people have been cut off for days. About a dozen major roads were closed, 300 trains canceled and more than 1,000 schools shut down.
In addition to the flights, the defense ministry also sent 8,000 soldiers out clearing roads across Romania and helping those trapped by the overwhelming snow.
Emergency officials in Serbia used helicopters to deliver food and evacuate sailors stuck on icebound boats on the Danube river near the town of Smederevo. They also resupplied a Danube island near Pancevo, north of the capital of Belgrade.