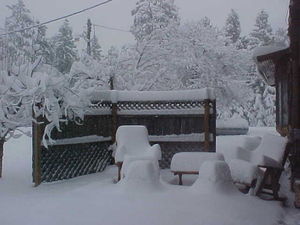 Heavy snow continues to fall this afternoon in parts of northern Wisconsin, with Rice Lake already reporting 17 inches on the ground.
The heaviest snow had moved east of Hayward at noon but was still falling in Park Falls, Ironwood and Ashland.
The Wisconsin Department of Transportation earlier advised no travel because of heavy snow on U.S. Highway 53 between Spooner and Gordon; U.S. Highway 63 from Spooner to Hayward; and state Highway 70 from Stone Lake to Siren.
Other highways are reported to be snow-covered, including U.S. Highway 2 east of Iron River.
The unusual May snowstorm moved just south and east of the Twin Ports but hovered over southeastern Minnesota, north-central Wisconsin and into Washburn, Bayfield, Ashland and Iron Counties where up to 14 inches fell overnight.
In southeastern Minnesota, where more than a foot fell through morning, traffic was snarled in some areas and electricity was out and heavy snow n limbs broke powerlines. Parts of Red Wing and Owatonna reported power was still out at mid-morning.
An unusually dry pool of cool air just north of Minnesota kept all of the snow out of Northeastern Minnesota. The forecast for Duluth and Superior now calls for just cloudy and cool, with a chance of light snow or rain Friday. Conditions should gradually improve over the weekend with temperatures back in the 60s by Monday.
Snowfall totals as of 10 a.m., according to the National Weather Service, include:
Rice Lake, Wis. 17 inches
Hayward (8 miles south) - 16 inches
Owatonna, Minn. 15.5 inches
Ellsworth, Wis. - 14 inches
Red Wing, Minn. - 13 inches
Washburn - 12 inches
Cumberland, Wis. - 12 inches
Ashland - 10 inches
Albert Lea, Minn. - 10 inches
La Pointe - 8.7 inches
Shell Lake - 8 inches
Iron River - 4 inches
Solon Springs - 2 inches