Summary: Unconventional research embraces physics, artificial intelligence and the paranormal.
Cf. 'Billion dollar race: Soviet Union vied with US in 'mind control research'',
Russia Today
, December 17th, 2013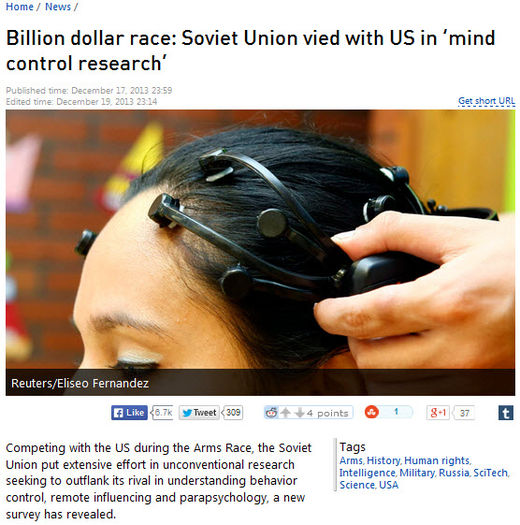 The title of this article comes from
a recent paper
by Serge Kernbach:
'Unconventional research in USSR and Russia: short overview', Serge Kernbach (Submitted on 4 Dec 2013 (v1), last revised 5 Dec 2013 (this version, v2))
This work briefly surveys unconventional research in Russia from the end of the 19th until the beginning of the 21th centuries in areas related to generation and detection of a 'high-penetrating' emission of non-biological origin. The overview is based on open scientific and journalistic materials. The unique character of this research and its history, originating from governmental programs of the USSR, is shown. Relations to modern studies on biological effects of weak electromagnetic emission, several areas of bioinformatics and theories of physical vacuum are discussed.
Nowadays almost every physicist is monitoring, one way or another, all the new papers in her/his domain of interest. The arxiv site is probably the most popular one among physicists, mathematicians and computer science researchers. It is not completely easy to submit a paper there. Not that there is a peer-review process there, but some kind of endorsement from some "well-established" scientist is needed. Otherwise your paper will not be accepted for pre-publication. Why was Kernbach's paper accepted? Because he has 16 papers already there. And also, probably, because of his affiliation:
Cybertronica Research, Research Center of Advanced Robotics
and Environmental Science, Melunerstr. 40, 70569 Stuttgart, Germany
Checking the publications of Serge Kernbach we find that his main interest is in the science and practice of robotics, mainly in "swarms of robots". An army of mini-robots can today be programmed to act in a way similar to the behavior of ants and/or bees. Look at these videos - they are amazing, and also somewhat scary: