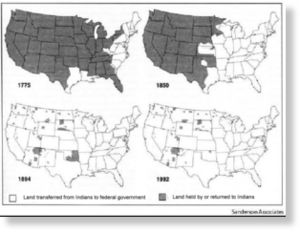 In researching my book
American Heart of Darkness,
I found persistent myths about the growth and development of the United States. From the first colony in Jamestown to the present, these myths have covered up the reality of what values and prerogatives actually drive the national direction.
First and foremost among these are the prevailing assumptions that the indigenous population of what is today 'North America' was 'primitive' and just could not 'adapt to modernization'. Further, that they were not resistant to European diseases and that this was the primary reason for their numbers having been reduced from at least 18 million to a mere 200,000 early in the 20th century.
The Native American world view was far different from that of the English speaking (and thinking) historians who wrote 'our' history. What the Native Americans experienced was the outright slaughter of their people and the theft of the land on which, and from which, they lived. Many, especially the plains Natives, did not think of land as something somebody could own. It was just there, like the wind, for all to use. Of course there were disputes over hunting territory and so forth, but these were child's play compared to what Europeans called 'war'.