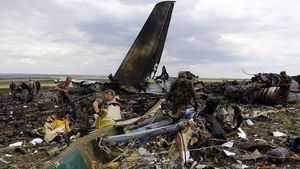 Is everyone enjoying the show? You know...the ridiculously transparent attempt by the entire Western media and their political 'elite' masters to use the
alleged
shooting down of Malaysian Airlines Flight MH17 as part of their 'asymmetric' warfare against Russia and Vladimir Putin. Even the supposedly 'leftist' UK
Guardian
newspaper has been running headlines like
World demands answers from Russia after Malaysia Airlines plane's destruction over Ukraine
and Hilary Clinton (wasn't she fired?) wasted no time in
declaring authoritatively
that Russian rebels were responsible for the downing of the plane and that "Putin has gone too far". Clinton's statement clearly exposes her own and her former government's complete lack of respect for due process, truth, and the extreme prejudice with which they both view the Russian Federation. It's also clearly complete and utter BS because no one could possibly know who was responsible for the shooting down of Flight MH17 just a few hours after it fell out of the sky.
Then again, the US government never did let the facts get in the way of a good dose of propaganda, and to be fair, from the point of view of Clinton and her ilk, Putin
has
gone 'too far', but it has nothing to do with any Malaysian aircraft.