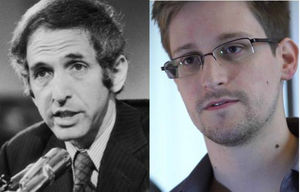 The political circus this week
narrowly voted down
an amendment to 'rein in the NSA's mass surveillance infrastructure'. As if senators can - or would sincerely wish to - negatively influence the behemoth that is the Global Security State! Ever since NSA whistleblower Edward Snowden leaked 'Top Secret' documents to the UK's
Guardian
newspaper, favorable comparisons have been made with Daniel Ellsberg, whose leaked 'Pentagon Papers' in 1971 revealed that the U.S. government knew, early on, that the Vietnam War could most likely not be 'won' (whatever 'won' means because its strategic goals were never defined), and that continuing the war would lead to many times more casualties than was ever admitted publicly.
Like today's circumspect avoidance when it comes to blowing the whistle on 9/11 (with a few
honorable exceptions
that do not receive widespread coverage), the 'greatest whistleblowers ever' (and I include
Julian Assange and WikiLeaks
in this category) don't leak the names behind purchases of pre-9/11 airline company '
put options
'; they don't leak the voluminous diplomatic cables that would sorely expose the
NeoCon-Israeli scheming
in the run-up to America's '
New Pearl Harbor
'; they don't leak the satellite images that would rubbish the fairytale that 'al Qaeda' was responsible for 'dustifying' the World Trade Center, firing that missile at the Pentagon, and downing Flight 93.
Commissioned in 1967 by then U.S. Secretary of Defense Robert McNamara, who was concerned about the disastrous course of the war in Vietnam - or rather, the disastrous press coverage it was receiving - the report that became known as the 'Pentagon Papers' was ostensibly "a comprehensive history of the United States involvement in Vietnam from World War II [1945] to the present [1968, when the report was completed]."
Daniel Ellsberg served in the Pentagon from August 1964 under Secretary of Defense Robert McNamara. In one of those curious synchronicities of history, Ellsberg's
first full day
as special assistant to McNamara saw the captain of USS
Maddox
in the Gulf of Tonkin claim that it was under fire from North Vietnamese patrol boats.
No such thing happened
. According to his
Wikipedia page
, Ellsberg personally reported the 'incident' to McNamara. The subsequent Gulf of Tonkin Resolution resulted in a huge escalation of U.S. military involvement in Vietnam. In fact, it transformed the situation from a 20-year long CIA 'covert war' to a full-scale military invasion and occupation.