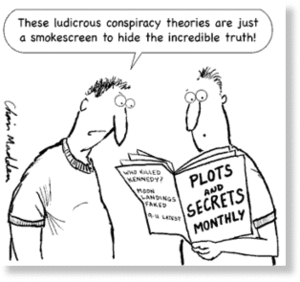 Many of the most notable events in modern (and even ancient) history have provoked some form of 'conspiracy theory'. That is to say, ordinary people were not satisfied with the official story about how the event unfolded because all or some aspects of that story simply did not objectively make sense. Despite what the mainstream media would like us to believe about 'conspiracy theories', most conspiracy theories are based on objective problems with the official narrative. But note that I said 'based on'. The problem with conspiracy theories is that, while they usually reflect a more accurate overview of a major event, they are forced to rely on theory (due to deliberate with-holding of data by official sources) rather than hard evidence (which would disqualify them as theories) and are therefore open to abuse by people who tend to use their imaginations to complete the picture rather than the more critical functions of the human mind.
Compared to other similar events where many people found the official story implausible, the Sandy Hook massacre has provoked a veritable flood of conspiracy theories, and many of them are not based on any hard evidence.
A large majority of the alternative news pundits that have attempted to independently investigate the Sandy Hook massacre have engaged in some seriously irresponsible and shoddy journalism. Among the more outlandish and baseless theories, we find the claim that "actors" took the place of the parents and siblings of the Sandy Hook victims, and that no children were murdered at all because, the theory goes, if they were, "why haven't we seen any bodies?" I've already exposed the logical fallacies in a few of these theories
elsewhere
, but there is one theory that still refuses to go away, perhaps because it is slightly less obviously bogus, and many people are still touting it as the single fact that "busts open" the official story as a "hoax".
The theory in question is that a man named Christopher Rodia was the REAL owner of the black Honda Civic, which has been identified as the car of Adam Lanza's mother that was found outside the Sandy Hook elementary school. The basis for this erroneous belief, still held by many, is police scanner audio that was picked up from the morning of Dec. 14th and which details Connecticut State Police response to the massacre.