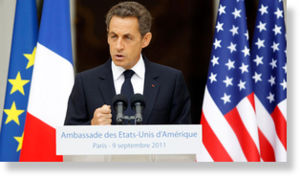 Since my
on the spot analysis and speculations
on the likely truth behind the recent shootings in South-Western France, more information has come to light that suggests that I was correct - Mohamned Merah was indeed a French intelligence asset who was groomed and then 'burned' in the service of a staged 'Islamic terror' attack and the re-election of Nicolas Sarkozy in the upcoming French Presidential elections.
Here's a quick recapitulation of the facts:
Merah has not been identified as the person who killed three soldiers, a Jewish teacher and three Jewish children in Toulouse and Montauban, because the shooter was wearing a motorbike helmet. On the contrary, eyewitnesses said the gunman was "quite fat" and "European looking" (according to an eyewitness who said he caught a glimpse of the gunman's face while his visor was down), while Merah is of slender build and clearly of North African descent.
The only evidence that Merah was the gunman is based on recordings of alleged conversations between police negotiators and Merah. These recordings have not been made public and probably never will be. While we can assume that a dialogue between Merah and police did take place, we have every reason to assume that the French authorities are not telling the truth.