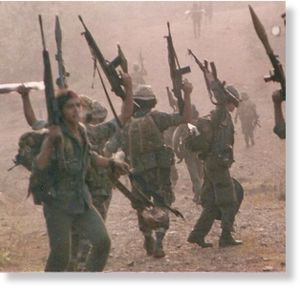 Over the course of the past 100 years, eastwards from South America to South East Asia (and everywhere in between), official history records that US governments have repeatedly created and used terrorist groups to attack foreign governments and populations who foolishly refused to view the world through a 'stars and stripes'-tinted lens. Two examples, among dozens, include Nicaragua and Indonesia.
At a
1985 hearing
of the Senate Appropriations Subcommittee on US operations in Nicaragua, Sen. Patrick J. Leahy (D-Vt.) told then Secretary of State George P. Shultz: "There is a growing body of evidence that the Contras have committed widespread violence against the civilian population.
I am concerned that money from our government goes to an organization that commits atrocities. I have been given affidavits by victims of atrocities, terrible photographs
."
Shultz was being rather coy here. The US government viewed the democratically-elected Sandinista government as a threat to the ability of American corporations to exploit Nicaraguan resources. Continuing in the tradition they had, by then, established in at least five other South American nations that rejected US corporate plunder of their nation, the US government decided to fund, arm and train a terrorist group known as the 'Contras' or 'counter-revolutionaries'.
For the next ten years, the Contras carried out widespread terror attacks against the civilian population that killed at least 45,000 people in the tiny central American nation. The CIA even produced a 'terror manual' for the Contras called
Psychological Operations in Guerrilla Warfare
that advised on how to rationalize the killing of civilians. For almost ten years these CIA terrorists busied themselves by:
targeting health care clinics and health care workers for assassination
kidnapping civilians
torturing civilians
executing civilians, including children, who were captured in combat
raping women
In his
case study of the Nicaragua vs United States dispute
,
Professor of military law at the University of Amsterdam, Terry Gill
wrote: "
The US played a very large role in financing, training, arming, and advising the contras over a long period, and the Contras only became capable of carrying out significant military operations as a result of this support."