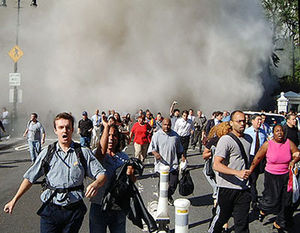 Martha Stout's newest book,
The Paranoia Switch
, is a welcome addition to the new and growing science of
ponerology
: the study of the root causes and genesis of evil, on both the social and interpersonal levels. Stout uses her years of experience as a trauma therapist to clinically diagnose the sickness of our 'terror culture,' and those who would manipulate this trauma for their own self-interest.
The paranoia switch
Traumatic events overload our limbic system. The heightened response of our amygdala, which registers the emotional significance of the event, leads to a decreased response in the hippocampus, which usually prioritizes information and allows the higher brain centers to create coherent memories, based on their emotional importance. So, traumatic events do not get integrated by the higher brain centers as true memories, but instead leave us with non-integrated fragments of memory: isolated images and sensations. These memories can then be "triggered" by similar images. In this way, a backfiring car can trigger a war vet into a state of paranoia. His "paranoia switch" has been flicked.
"Most overwhelming of all are traumatic experiences caused not by accident (unintended explosions or car crashes), or by "acts of God" (earthquakes, volcanoes, etc.), but rather by the deliberate acts of other people, acts such as assault, violent abduction, rape - or terrorism. It would seem that, for whatever reason, we are hardwired to be most fearful of harm when it threatens to occur maliciously, at the hands of our fellow human beings, and this special variety of fear is the most contagious of all." (62)
As Stout explains later in her book, fear brokers maintain their power through the exploitation of human weaknesses. Ironically, it is often the very people we are genetically "programmed" to fear (i.e. psychopathic individuals), that exploit this fear by focusing it on an arbitrary and convenient group. Hitler used anarchists, communists, and Jews. Our leaders are using "terrorists", Muslims, and critics of their policies.