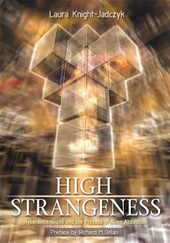 Editor's note: This review is of the revised second edition of Laura Knight-Jadczyk's
High Strangeness.
It is available from QFGPublishing.com, RedPillPress.com, RedPillPress.co.uk, Amazon and finer bookstores everywhere!
It's sad but true that most people don't like inconvenient realities to upset their pleasant illusions and prejudices. I see this all the time in my own daily interactions with people. Once someone reaches a point in his or her life when they feel they "understand" the world well enough - often around the age of thirty - they spend the rest of their life filling in the blanks of what they think they already know. It's a tendency that usually becomes more extreme over time. Ideas and worldviews seem to harden in tandem with the arteries.
The friends people make, television shows they watch, the internet sites they visit - the very world they create for themselves - all of these usually support the circumscribed worldview they themselves have adopted.
Obviously, it's the same with books. It's a rare book that has the ability to truly change one's mind about the world. Rarest of all are those gems with the ability to change one's life.
Laura Knight-Jadczyk's
The High Strangeness of Dimensions, Densities, and the Process of Alien Abduction
is such a book.