Reading an article from the current issue of
Time Magazine
really makes one stop and think. At the beginning of the article, one sees a lovely color photo that, except for a few fashion details, could have been taken last week in Paris.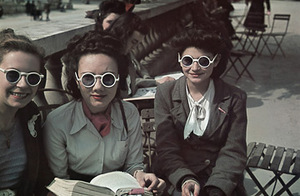 ©Andre Zucca
One of the photos showing the supposedly sunny, happy life in Paris during the German occupation
And then, one reads the text:
The photographs from the early 1940s show Paris as sunny, airy, bursting with color. Its inhabitants appear carefree, content and refreshingly unaware of their proclivity for looking très chic. It's all very much at odds with the prevailing image of the French capital suffering and smoldering under the yoke of its Nazi occupiers. Indeed, that very dissonance has made the current photo exhibit "Parisians Under the Occupation" one of the city's most controversial cultural events of late. Was life in Nazi-controlled Paris really as idyllic as these pictures suggest?
I would say that life in Nazi-controlled Paris was exactly as idyllic as life is in Neocon controlled New York City where Machine Gun-Toting Officers will be Patrolling the NYC Subway and several citizens were quoted as actually saying they now feel "safer," never mind that the Phantom Terrorist menace is exactly as real as the Jewish Terror Menace was to the Germans. This must, of course, give us pause to consider...