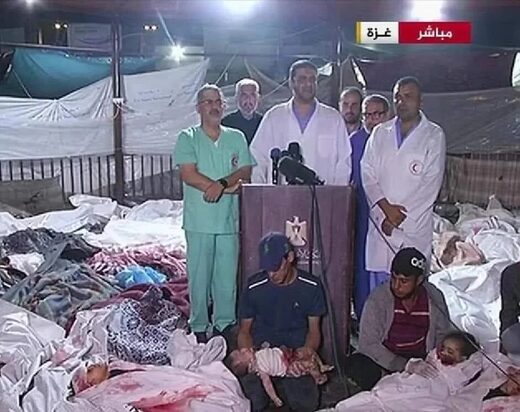 It's true that Israel didn't "bomb the al-Ahli hospital" in Gaza on the night of Oct. 17th 2023. The evidence suggests it did something much worse.
As is the case with all other hospitals in Gaza, al-Ahli hospital had become a refuge for the thousands of people internally displaced in Gaza due to Israel's massive bombing campaign that began on Oct. 7th. On the night of Oct. 17th, hundreds of Palestinian men, women and children had congregated in the courtyard of the hospital (the hospital itself being already full) because they believed it to be a relatively safe haven from Israeli bombs.
Canon Richard Sewell, the dean of St George's College in Jerusalem, told the BBC that about 1,000 displaced people were sheltering in the courtyard when it was hit, and about 600 patients and staff were inside the building.
Not only had the IDF already
warned this hospital in the three consecutive days before the explosion that it would be attacked
, they actually
attacked it on Oct. 14th, hitting the cancer ward
.
Since Oct. 7th, the WHO has reported 59 attacks on healthcare establishments in Gaza City and 137 across the entire territory of the Gaza
Strip
.
Note also that, in the past week, Israeli political and military elite have
publicly stated
that they view all Palestinian resistance groups as "literal Nazis" and by implication the Palestinian people as "Nazi sympathizers", and therefore "subhuman" and not entitled to the same rights as "normal" human beings.
Initially, and based on claims by Hamas, Palestinian Islamic Jihad (PIJ) and
hospital staff
, the media reported that Israel had bombed the hospital, "killing hundreds of people." Within a day however, the IDF claimed that the explosion was in fact a result of a PIJ rocket that "misfired" and hit the area, and provided evidence to "prove" it.