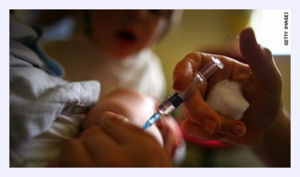 Children who get a combination of measles, mumps, rubella and chickenpox vaccines in one shot are at a slightly increased risk of getting a fever-related seizure, compared with children getting two separate shots - one containing measles, mumps and rubella and the another containing the chickenpox (varicella) vaccine, according to a new study published in the journal Pediatrics.
"The risk of a febrile seizure after any measles-containing vaccine is low - about one febrile seizure in 1,000 doses" says lead study author, Dr. Nicola Klein, co-director of Kaiser Permanente's Vaccine Study Center. "But if a child gets the combination vaccine,
the risk doubles
," says Klein.
Researchers looked at vaccine-safety data from more than 459,000 toddlers between the ages of 12 and 23 months and found there was one additional case of febrile seizure for every 2,300 doses of MMRV (measles, mumps, rubella, varicella) vaccine given. The seizures occurred seven to 10 days after the injection.
According to the Centers for Disease Control and Prevention, a febrile seizure is a fever-related seizure, which can occur when a child has a fever at or above 102°F or when a high fever is going down.