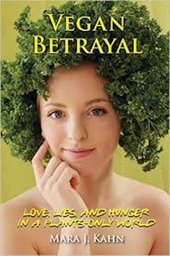 An estimated 6 million Americans are vegans, which is typically considered to be a healthy choice. However, there are drawbacks to strict veganism that need careful consideration.
Mara Kahn, author of
Vegan Betrayal: Love, Lies, and Hunger in a Plants-Only World
, delves deep into the history and science of veganism, revealing many oft-ignored facts about this strictly plant-based diet.
She's put together a compelling story, covering her personal journey from being a vegan and vegetarian to exploring diet and health and finding out the truth behind the hype. It's really the best book I've ever read on this topic, as it covers the vegan issues in their entirety.
"Even though my book is titled Vegan Betrayal, I do respect vegans and what they're trying to do. My own journey led me back to vegetarianism. I know that many ... vegetarians that became vegans ... are suffering from diminished strength and faltering health.
I think this is a topic which has been swept under the rug and it's not being openly discussed in the vegan community. I think it's very important that we start this discussion. I hope this book will help kick-start that really important dialogue," Kahn says.