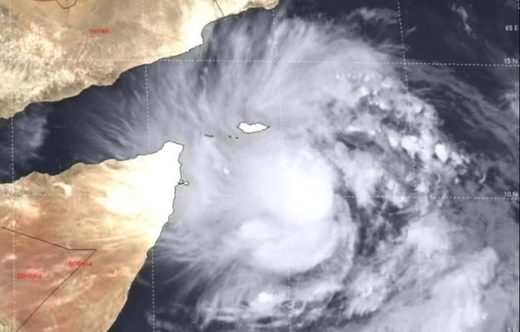 In less than a week's time,
two tropical cyclones will have battered the Middle East in highly unusual locations.
Tropical cyclone Sagar slammed into northwestern Somalia over the weekend, after forming in the Gulf of Aden, killing
at least 31 people
in the region.
The storm made landfall farther west in the North Indian Ocean basin than any previous storm on record.
Now, a second cyclone has spun up just to the east, due south of the Arabian Peninsula. The
rapidly organizing storm
is eyeing Oman's southern coast, where it may make landfall at hurricane-strength late this week.
The Joint Typhoon Warning Center says the cyclone is over very warm waters, between about 87 and 90 degrees. "Extremely warm sea surface temperatures and favorable environmental conditions will lead to steady intensification," the center wrote
in its latest update
.
The center forecasts the storm to make landfall near Salalah along Oman's southeast coast between Friday and Saturday, with maximum sustained winds of more than 90 mph. Salalah is Oman's second-largest city with a population of about 200,000. Assuming the storm remains on its current track, the area can expect torrential rain, damaging winds and dangerously high seas.
Brian McNoldy, Capital Weather Gang's tropical weather expert, said that since 1980, only three "hurricane-strength" storms have made landfall within 100 miles of the Oman-Yemen coast, and none near Salalah.