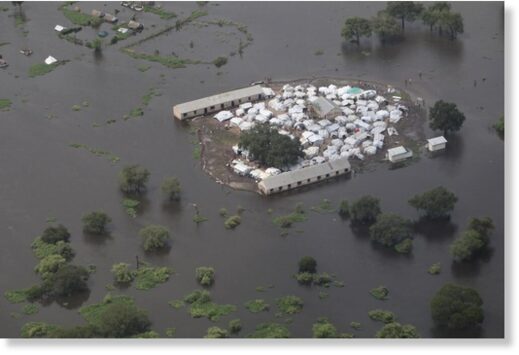 Many areas flooded since July, river levels still rising, making crisis worse, says Medecins Sans Frontieres
27.10.2020
Severe flooding in South Sudan is affecting the lives of roughly 800,000 people, leaving them without adequate food, water or shelter, Medecins Sans Frontieres said Tuesday.
"Many areas [in South Sudan] have been flooded since July, while river levels are continuing to rise, worsening the crisis," the Medecins Sans Frontieres, or Doctors Without Borders -- an international humanitarian medical non-governmental organization -- said in a statement.
Putting efforts to provide medical care in the affected areas of Upper Nile, Jonglei, Greater Pibor, and Unity states, the MSF said the need for medical care in South Sudan "are increasing with a sharp rise in malaria cases and fears of outbreaks of other diseases."