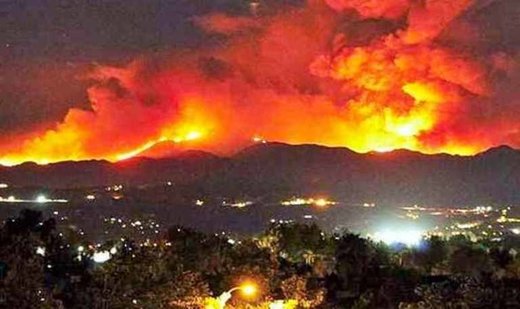 Evacuation orders remained in place for around 1,500 homes near a wildfire north of Los Angeles early Sunday, after the blaze nearly doubled in size Saturday.
The mandatory evacuation orders were prompted by the so-called Sand Fire burning in the Angeles National Forest and areas near Santa Clarita, the Los Angeles County Fire Department said. Earlier, evacuation orders affected around 300 homes.
Authorities discovered a burned body Saturday evening outside a home on Iron Canyon Road in Santa Clarita, just north of Los Angeles.
Detectives were trying to determine whether the person was killed by the blaze or another cause, Los Angeles County sheriff's Lt. Rob Hahnlein said. The home also may have burned, he said.
The fire broke out at around 2:11 p.m. local time Friday (5:14 p.m. ET)
and swelled to 11,000 acres by noon Saturday and then to 20,000 acres by Saturday evening, fire officials said.
More than 900 firefighters were battling the blaze, the Angeles National Forest said.