Earth Changes
Is it close ?
YouTube
Mon, 27 Dec 2021 19:33 UTC
---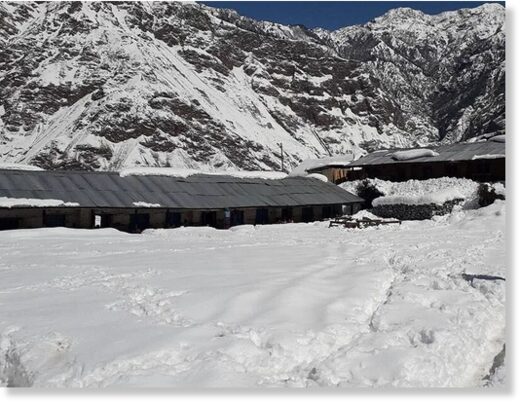 Snowfall that occurred in many places in the mountainous and high hilly region of the country since Sunday evening, has affected the normal life.
A report from Phungling in Taplejung district of Province 1 stated that heavy snowfall since Sunday evening has led to a sharp drop in mercury in the mountainous region.
Heavy snowfall was witnessed at Ghunsa and other areas in Phaktanglung Rural Municipality which is situated at an altitude of 3,400 metres.
Although moderate snowfall started occurring in Ghunsa area from the last week alone, last night saw heavy snowfall which has affected the normal life in the areas, said Pema Sherpa, a local.
He shared that people have not been able to go outdoors due to the snowfall and accumulation of thick snow outside. The children and the elderly people have been affected the most due to the freezing cold, he added.
---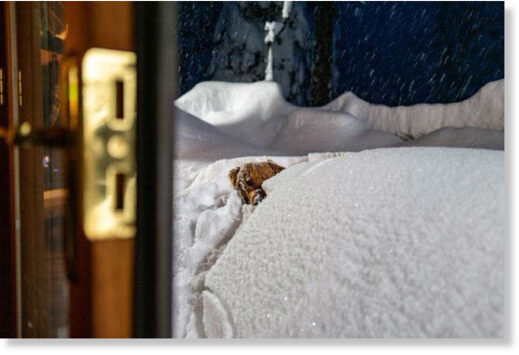 In Nevada and Placer Counties, tens of thousands of Pacific Gas and Electric customers have been left powerless as temperatures drop and more severe weather comes our way.
One local fire district is calling for a local emergency declaration because first responders are having so much trouble getting to calls for service.
The heavy snow coming down is hitting foothill communities with a knockout punch, snapping trees and downing power lines. Snow plows were busy keeping roads clear as Nevada City and Grass Valley streets were left in the dark.
PG&E crews could be seen assessing the damage block by block.
"Just been kind of hunkered down and just been making due with what we got," Nevada City resident Jeff Ward said.
Ward decided to turn his power outage into an opportunity. His home is one of the thousands with no electricity. He decided to barbecue a makeshift meal in the snow.
---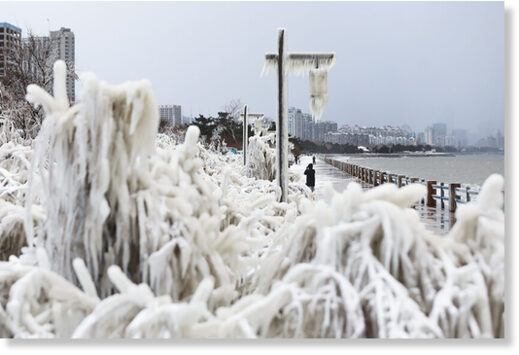 The temperature in the city of Hulunbuir, in northern China's Inner Mongolia autonomous region, plummeted to -46.9 degrees Celsius on December 23, 2021, as a cold front swept through the region.
Temperatures in other parts of northern China plunged to -40 degrees Celsius, prompting major supermarkets to increase supplies of necessities, including fruits and vegetables.
---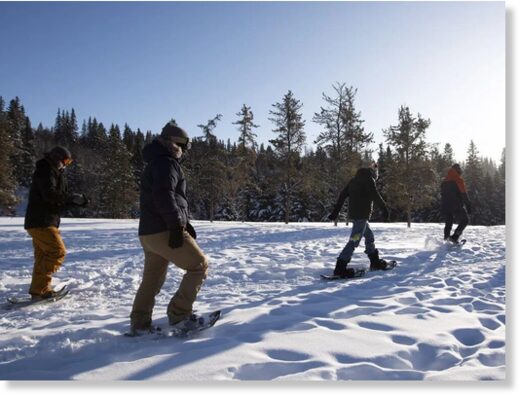 The City of Edmonton announced Monday that, due to the extreme cold temperatures, it would be pausing "non-essential snow and ice-clearing work, including Phase 2 residential areas."
In a news release, the city said: "the current temperatures present a significant risk to employees, equipment and contracted equipment.
"Temperatures will be monitored and operations will resume when it is safe to do so."
The city said crews would continue to respond to "safety-sensitive notifications" and address "emergent and priority issues."
---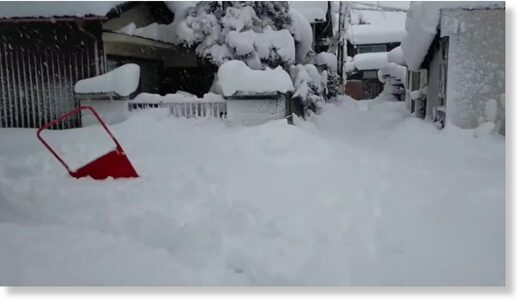 A powerful cold air mass has brought heavy snow on the Sea of Japan coast from the country's north to west, with some cities in northern parts of western Japan's Kansai region logging record snowfalls and transportation systems disrupted, local media reported on Monday.
According to the Japan Meteorological Agency, 68 centimeters of snow fell in Hikone city, Shiga Prefecture and 71 centimeters (cm) accumulated in Asago City, Hyogo Prefecture in a 24-hour period through early Monday, both hitting record highs.
Due to the heavy snow, a car accident caused a traffic jam of about 20 vehicles at around 6:30 a.m. local time on the Maizuru-Wakasa Expressway in Kyoto Prefecture, western Japan.
The road operator, West Nippon Expressway Co., closed both outbound and inbound lanes of the expressway until the snow was removed. The expressway was fully reopened past noon.
---
Andrew Krueger
MPR News
Wed, 29 Dec 2021 14:25 UTC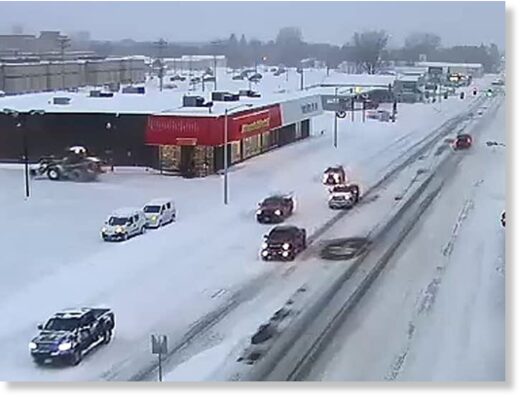 Snow totals reached 18 inches in parts of Minnesota on Monday morning, as a winter storm continued to drop snow and freezing rain on the region.
The National Weather Service received a report of 18 inches of snow from a spotter near St. Mathias, south of Brainerd, as of 7 a.m. A spotter near Baxter reported 16 inches of snow.
The Minnesota Department of Transportation reported snow-covered roads across most of the state as of 10:45 a.m. Monday.
The Minnesota State Patrol reported it had responded to 189 crashes on state highways between noon Sunday and 8 a.m. Monday, along with 200 vehicles that slid off roadways and eight jackknifed semis.
---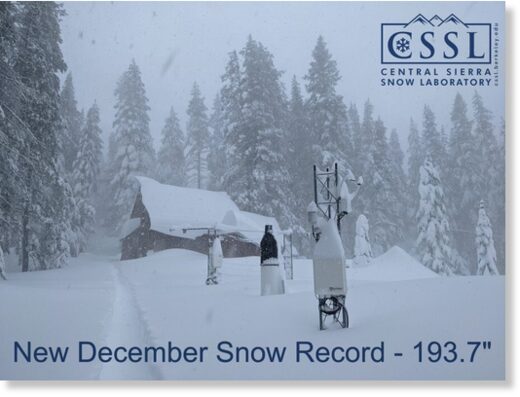 Severe weather brings record low temperatures in Seattle and huge snowfalls in California and Nevada
Severe weather sweeping parts of the US continues to bring record-breaking cold temperatures to the Pacific north-west and heavy snow to mountains in northern California and Nevada.
Emergency warming shelters were opened throughout Oregon and western Washington as temperatures plunged into the teens (below zero in centigrade) and forecasters said an Arctic blast would last for several days.
Sunday's snow showers blew into the Pacific north-west from the Gulf of Alaska, dumping up to six in (15 cm) across the Seattle area.
The National Weather Service said Seattle's low on Sunday was -6.7C (20F), breaking a mark set in 1948. Bellingham was -12.8C, which was three degrees colder than the previous record set in 1971.
---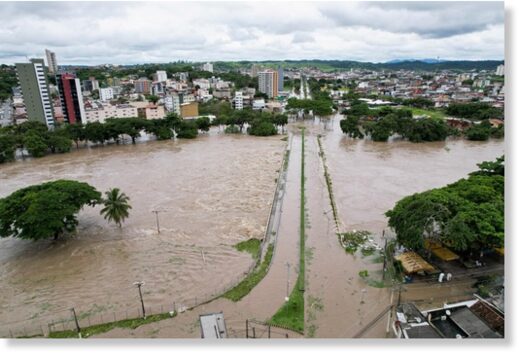 The death toll from floods hammering northeast Brazil rose to 20 on Monday, as the governor of Bahia state declared it the worst disaster in the state's history and rescuers braced for more rain in the coming days.
Much of Bahia, home to about 15 million people, has suffered from intermittent flooding for weeks, after a long drought gave way to record rains. Flooding in some areas intensified late on Christmas Eve and early on Christmas Day after a pair of dams gave way, sending residents scrambling for higher ground.
Rescue workers patrolled in small dinghies around the city of Itabuna, in southern Bahia, plucking residents from their homes, including some who escaped through second-floor windows.
---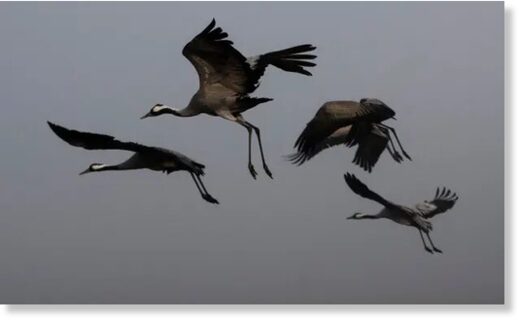 A bird flu outbreak in northern Israel has killed at least 5,200 migratory cranes and forced farmers to slaughter hundreds of thousands of chickens as authorities try to contain what they say is the deadliest wildlife disaster in the nation's history.
Uri Naveh, a senior scientist at the Israel Parks and Nature Authority, said the situation was not yet under control. "Many of the birds are dead in the middle of the water body so it's difficult for them to be taken out," he said on Monday.
Environmental protection minister Tamar Zandberg called the crisis "the most serious damage to wildlife in the history of the country". "The extent of the damage is still unclear," she tweeted.
Yaron Michaeli, a spokesperson for the Hula Lake park, where the crane population is mainly based, said workers were removing the carcasses as quickly as possible, fearing they could infect other wildlife.
---