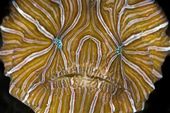 A funky, psychedelic fish that bounces on the ocean floor like a rubber ball has been classified as a new species, a scientific journal reported.
The frogfish - which has a swirl of tan and peach zebra stripes that extend from its aqua eyes to its tail - was initially discovered by scuba diving instructors working for a tour operator a year ago in shallow waters off Ambon island in eastern Indonesia.
The operator contacted Ted Pietsch, lead author of a paper published in this month's edition of Copeia, the journal of the
American Society of Ichthyologists and Herpetologists
, who submitted DNA work identifying it as a new species.