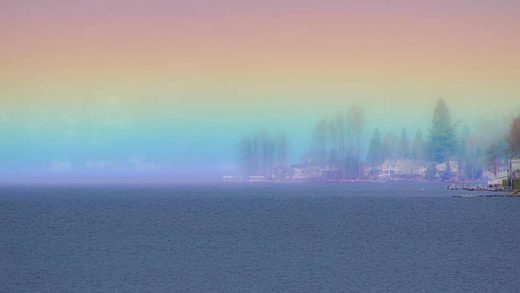 As if 2020 couldn't turn more upside-down, we now have nature playing tricks on us as well.
An image shared by amateur photographer
Cessna Kutz
shows the quick moment a "horizontal rainbow" appeared to almost cover the whole span of Lake Sammamish in Washington State.
"I've seen lots of rainbows over Lake Sammamish, but never a flat one,"
Kutz told IFLScience in an interview.
The first, wider image shows the rainbow from her window around 2 pm local time and lasted for less than five minutes. A second zoomed-in photograph was taken using her Canon Rebel t5 camera at 300mm, ISO 100 /f11 1/250sec.
None of the three images had a filter applied to them, though Kutz says that she did "just a tad bit of adjusting with the contrast."