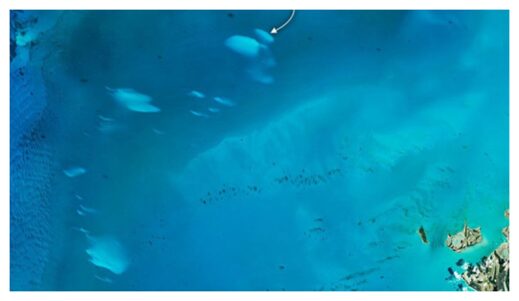 Scientists have spotted a
mysterious uptick in the appearance of unexplained patches of white water in the shallow waters off the coast of the Bahamas,
reports a new study based on satellite observations.
For almost a century, people have observed these so-called "whiting" events, which typically cover an area equivalent to a few hundred football fields, but nobody knows the exact cause of this phenomenon. Samples show that the discoloration is caused by fine-grained calcium carbonate that floats over the Bahama Banks, which are carbonate structures that surround the archipelago, but
it's not clear why the grain clouds sporadically appear in the ocean.
To shed light on this enigma, researchers from the University of South Florida compiled the longest and most detailed space-down view of the Bahama Bank whiting events using observations captured by NASA's Aqua satellite between 2003 and 2020.
The team also trained a machine learning tool to analyze the images, an approach that revealed a "mysterious increase" in whiting events over the past decade, which peaked in 2015, as well as seasonal patterns in these discolorations,
according to a recent study
in the journal
Remote Sensing of Environment
.