Earth Changes
Infotainment
YouTube
Thu, 25 Jun 2020 12:16 UTC
---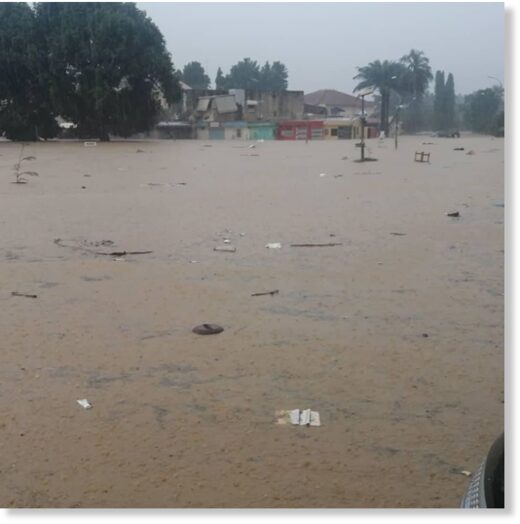 At least 5 people have died and one is missing after flash flooding in Abidjan District, Cote D'Ivoire (Ivory Coast), 25 June 2020 after 240mm of rain fell in a few hours.
More heavy rain is forecast over the next 2 days.
Civil Protection said several roads have been cut and houses damaged. Images shared on Social Media showed upturned cars that had been dragged through streets and residents taking refuge on roofs or clinging to walls and trees.
Firefighters responded to several calls for assistance, mostly in the suburb of Cocody which was among the worst hit areas. Police reported they rescued or evacuated 36 people in several areas of the Abidjan district.
According to figures from the country's meteorological office SODEXAM, Cocody recorded 240.8 mm of rain and Abobo 146.4 in a period 24 to 25 June.
---
Doyle Rice
USA TODAY
Fri, 26 Jun 2020 09:59 UTC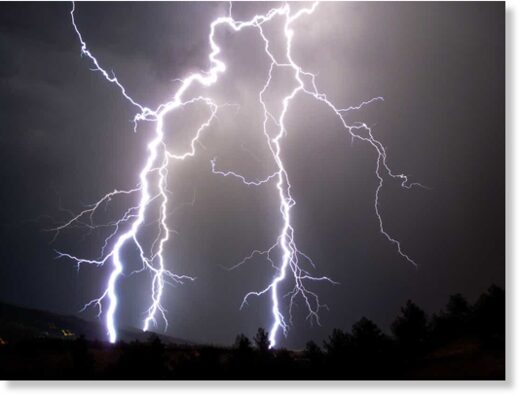 A new world record lightning strike of 440 miles has been confirmed by the World Meteorological Organization, according to a Thursday announcement.
The "megaflash" traveled that distance over parts of southern Brazil on Oct. 31, 2018, the WMO said. This is equivalent to the distance between Washington, DC, and Boston.
In addition to the longest flash in terms of distance, a world record for longest lightning strike in terms of time was also announced: A single flash lasted 16.73 seconds over northern Argentina on March 4, 2019.
"These are extraordinary records from single lightning flash events," said Arizona State University Professor Randall Cerveny, chief rapporteur of Weather and Climate Extremes for the WMO, in a statement. "Environmental extremes are living measurements of what nature is capable, as well as scientific progress in being able to make such assessments.
"It is likely that even greater extremes still exist, and that we will be able to observe them as lightning detection technology improves," he said.
---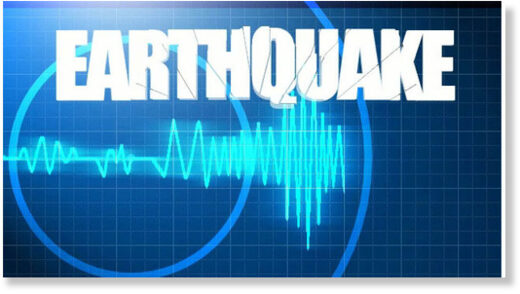 A 6.4-magnitude earthquake jolted Yutian county of Hotan prefecture in Northwest China's Xinjiang Uygur autonomous region at 5:05 am Friday Beijing Time, according to the China Earthquake Networks Center.
The epicenter was monitored at 35.73 degrees north latitude and 82.33 degrees east longitude, with a depth of 10 km, the CENC said.
No obvious tremors were felt in Yutian county seat.
The average altitude within 5 km around the epicenter is about 5,300 m, and there are no villages within 20 km around the epicenter, according to the regional seismological bureau.
Source: Xinhua
---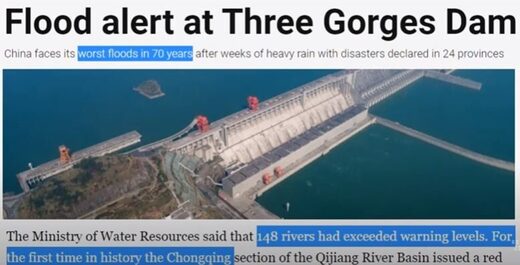 With the heaviest floods in 70+ years covering China under unprecedented amounts of flood water, recent talk of the Three Gorges Dam over-topping or collapsing is making the rounds. This is my best guess what will happen as the reservoir fills and flood gates are opened to full volume with down river flooding that will severely reduce crop yields moving into 2020 harvest season.
---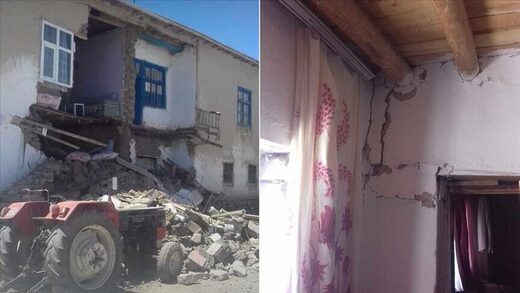 A magnitude-5.4
earthquake
hit
Turkey
's eastern province of
Van
, the country's disaster agency said.
The National Disaster Management Agency (AFAD) said the quake occurred at 1.03 p.m. local time in the Özalp district at 6.9 kilometers beneath the ground.
There were no immediate reports of casualties.
Some houses were damaged due to the tremors, and damage assessment studies are ongoing, said Van Governor Mehmet Emin Bilmez.
---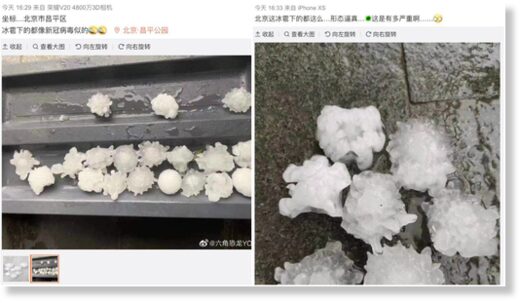 China News Service, June 25, according to the official Weibo news of the Beijing Meteorological Bureau,
the Beijing Meteorological Observatory issued a yellow hail warning signal at 15:30 on June 25, 2020
: It is expected that Beijing will be dispersed by 22 o'clock Hail, please take precautions.
Earlier on the 25th, the Beijing Meteorological Observatory issued a yellow warning signal of thunder and lightning: It is expected that thunderstorms will occur in the Beijing area until 02:00 on the 26th; the local short-term rain is strong, accompanied by short-term strong winds and hail around level 7.
Source: ChinaNews
---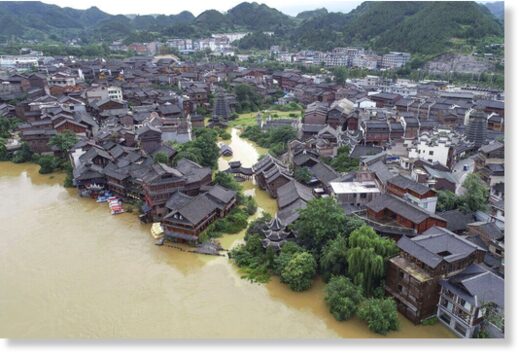 The flood situation has worsened in Guizhou Province, southwest China, with 74,000 people now affected in 12 counties or cities, including Tongzi and Huishui Counties, Zunyi, Tongren and Qiandongnan.
Three fatalities were previously reported in Tongzi.
Heavy rain in the area has increased river levels in neighbouring Chongqing municipality,
where the Qijiang river reached historic levels.
On 22 June, the
Qijiang river at Wucha in Jiangjin District, jumped more than 5 metres above flood level,
standing at 205.56 metres. The Puhe River in the district was also extremely high, reaching around 0.5 metres above flood level at Shijiaozhen in Qijiang district around the same period.
Authorities said a total of 43,725 people were affected and hundreds of houses damaged or destroyed in Qijiang District of Chongqing as of 22 June. Local media reports suggest between 40,000 and 100,000 people have been displaced across Chongqing.
---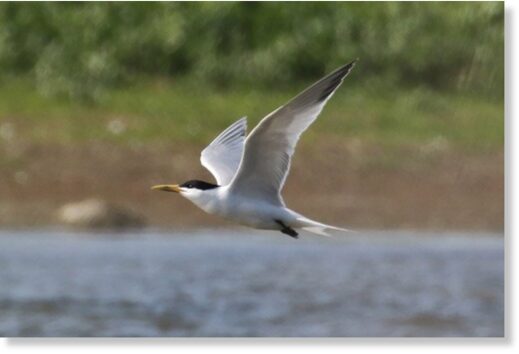 It's not every week that we have the privilege of writing about a Western Palearctic first in either Britain or Ireland. However, high-quality photographs of the putative adult female Cayenne Tern at Lady's Island Lake, Co Wexford, now seem to have allowed the bird's identity to be secured beyond reasonable doubt, with various plumage details considered to be past the limits of what a 'runt' Sandwich Tern or a hybrid might show. Most importantly, these include the bird's diminutive stature, a short, stout, mustard-yellow bill and a distinct charcoal secondary bar, as well as a primary pattern best matching that of Cayenne Tern.
---
Katherine Davison
7NEWS
Thu, 25 Jun 2020 10:24 UTC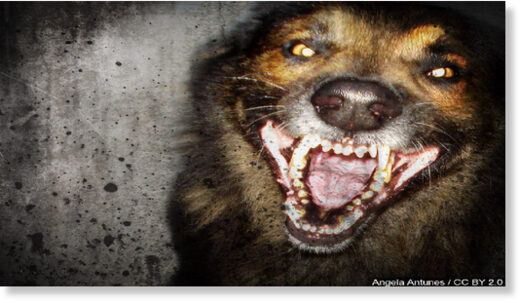 Newborn twin sisters have tragically died after being attacked by their family dog in their home.
The disturbing incident took place just 26 days after twins Anne and Analu were born.
Brazilian local media report the pair's mother Elaine heard a sound coming from the room the twins were in and found their family dog, the breed of which has not been reported, attacking her daughters.
She managed to rip the dog off them and called a family friend who is a nurse to help the tots.
The nurse gave the girls first aid before they were taken to Maria Pedreira Barbosa Municipal Hospital, with doctors saying one of the girls was declared dead on arrival, whilst the other was in a serious condition.
---