Earth Changes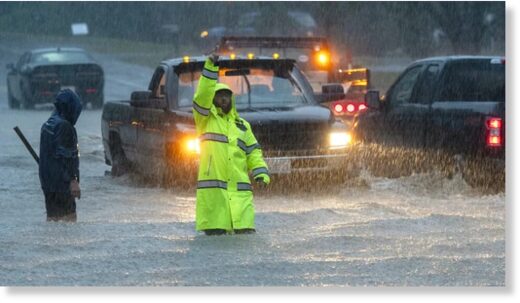 Dangerous flash flooding follows heavy rains in Leominster, Mass., forcing rescues and school cancellations. WBTS' Kirsten Glavin reports.
Comment:
CNN
reports
:
Massachusetts cities devastated by floodwater could face new perils as more rain is on the way and officials wonder whether a "very sensitive" dam in will hold up.

Gov. Maura Healey has declared a state of emergency across Massachusetts on Tuesday due to "catastrophic flooding" that began Monday and inflicted damage to homes, businesses and infrastructure, including bridges, dams and railways.

And about 200 homes were damaged in and around North Attleborough after a storm Monday quickly dumped about 5 inches of rain on ground already saturated from a weekend storm, officials said.

"It was really scary, the amount of water that fell in just a short amount of time and the incredible devastation that it caused," the governor said.

No civilian injuries have been reported from the North Attleborough flooding, but a firefighter was injured overnight and was in stable condition, Coleman said Tuesday.

She also said the massive flooding that hit various regions of Massachusetts "severely impacted" two dams, damaged railroad tracks and forced a number of seniors to be evacuated by boats in the middle of the night.

"One of those dams has been shored up already and the other will be shored up by the end of the day," said Healey, who toured the damage on Tuesday.

Leominster was another city in Massachusetts to face a torrential downpour this week. The city got pummeled by roughly 11 inches of rain in just six to seven hours, Mayor Dean Mazzarella said Tuesday.
---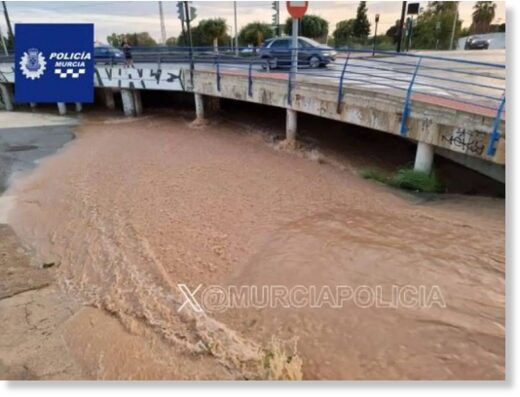 This footage was filmed and produced 12 September 2023. A sudden, intense and brief hail storm battered large parts of the Region of Murcia, southeastern Spain on Tuesday evening, September 12. The meteorological phenomenon lasted for only about 10 minutes, but flooding was reported in various municipalities.
---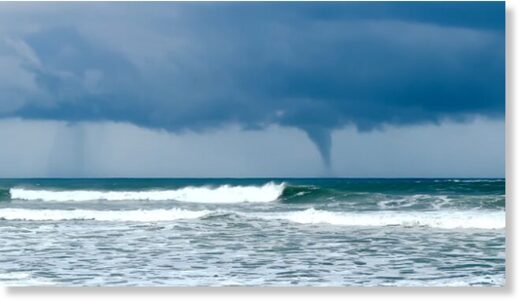 The Island Free Press (IFP) reported on these offshore waterspouts that were seen near Rodanthe and Ocracoke Island on Wednesday afternoon, including an update from the National Weather Service (NWS) Newport/Morehead City office that confirmed the reports.
The IFP story indicated that the sightings occurred around 1:00 p.m. on Wednesday, and the waterspouts had dissipated by roughly 3:00 p.m.
---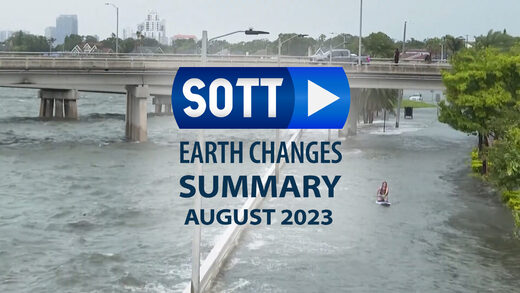 So-called historic wildfires in the U.S., Greece, and Canada filled corporate media headlines while blaming "global boiling." However, the annual number of wildfires for 2023
remains
average.
In Greece, the annual average did increase moderately, and
arsonists
were to blame. Social media was flooded with convincing points and speculations, blaming the globalist psychos' minions for starting the fires in order to spread fears of man-made climate change to push Net Zero policies throughout the Western world, and also, to take advantage of the aftermath to
buy land
at a fraction of their original price.
Accusations of
land-grabbing
grew even louder after the Lahaina fires when private companies "generously" offered to buy the affected land. But then, Governor Josh Green, said he would not allow the land to end up in private hands, but that the
government could buy them.
Is this good news for the people of Lahaina? Or will the land, once handed over to the government, end up in the hands of private companies anyway? That remains to be seen.
But whether it was natural, man-made, or both, the official death toll from the fires is 115. Considering the population of Lahaina, that's a huge death toll. In addition, Maui's major reported that
850 people were still reported missing,
and suddenly the number went down to 60.
There are many things to blame for this tragedy:
-
Government incompetence.
-
Laughable budget
for wildfire safety.
- Exceptionally
flammable grass
was introduced in 2020.
-
Extreme winds
.
-
No warning sirens.
- State officials
refused
to release water.
- High voltage cables cut and laid over dry grass.
- Police blockades that
kept people from fleeing
the deadly fires.
- Utility trucks
blocked roads
as people tried to flee.
Later, the government erected a fence around the affected areas, and fire survivors were not allowed to return to what was left of their homes and businesses. For "their protection", they said. Or is there something else they want to hide?
In early August, the warm-mongers were still pushing the "world is boiling" nonsense, while the US had a
cooler-than-average summer
, and northern Italy, the Dolomites, and the Pyrenees were hit with summer snow!
Then they change the narrative a bit and blame global warming for the extreme flooding around the world, yet, as we have shared before, it's all part of natural cycles, pointing out a shift to colder global temperatures.
And again it has nothing to do with CO2:
Recent research suggests carbon dioxide molecules have little consequential impact on outgoing radiation, and that today's climate models assign fundamentally erroneous global temperature effects to CO2.
But that doesn't matter because the goal of the globalist psychos and their minions - the corporate media and paid "experts" - is to fuel the fires of fear and hysteria. However, it seems that fewer and fewer people are buying into their lies, as reality sometimes reveals itself quite dramatically.
---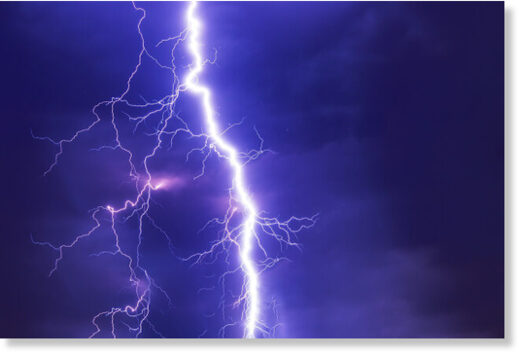 Around 138 sheep were killed by lightning, and 15 were injured in Unnao district late on Sunday night. Three persons were killed in wall collapse incidents reported from different parts of the district due to continuous rain.
Lightning struck a flock of sheep in Muraira village in Nawabganj area on Sunday night."Around 138 sheep were struck by lightning and died. Fortunately, there was no loss of human life as the owner and his family members were sleeping in their house at some distance away from the spot where lightning struck."
Rajkumar Pal, son of Mangali, a resident of village Muraira, had 153 sheep of which 138 died due to lightning while 15 got injured. Rajkumar said that his main source of livelihood was destroyed causing a huge loss to him.
Lekhpal Ashish reached the spot and assessed the loss. He has sent the report to the tehsil. Sub-divisional magistrate Narendra Singh said that according to the loss, a report has been sent to the government and estimated assistance will be provided to the victim. Meanwhile, in Behta village five monkeys died after lightning struck a Peepal tree.
---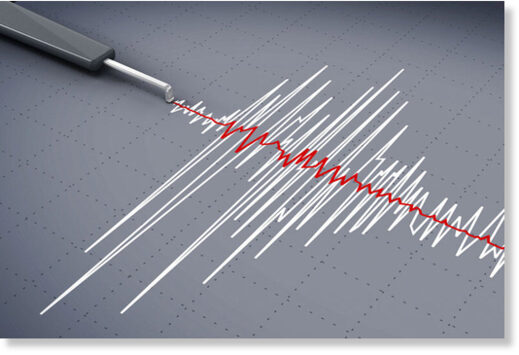 6.1 magnitude earthquake
UTC time: Wednesday, September 13, 2023 11:49 AM
Magnitude Type: mww
USGS page:
M 6.1 - West Chile Rise
USGS status: Reviewed by a seismologist
Reports from the public: 0 people
10 km depth
Southeast Of Easter Island
---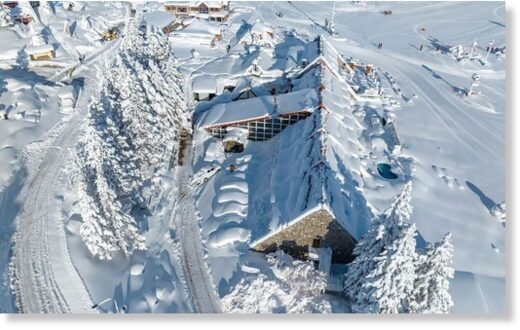 After getting over three feet in 24 hours, the latest storm total at Argentinian ski area Las Leñas has settled at approximately

10 feet of new snow

.
This is due to an atmospheric river this past week that has slammed the region of the Andes Mountains that Las Leñas is nestled in.
As a result, avalanche danger has reached an extreme level in and around Las Leñas. Two large inbounds avalanches were documented on Monday, occurring within a closed-off area of the resort.
The avalanches shown in the video above are large enough to bury, injure, and kill a person. Thankfully, the area they happened in was closed by ski patrol as a result of the ongoing storm and avalanche activity.
---
Shakirah Thebus
IOL
Wed, 13 Sep 2023 10:58 UTC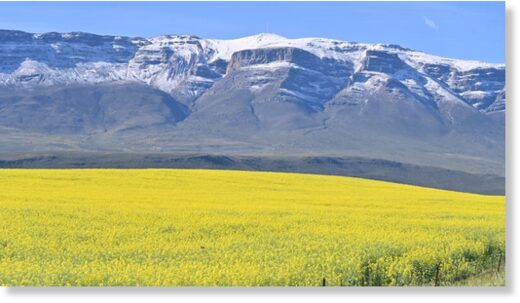 The South African Weather Service (SAWS) said that as the cold temperatures persist countrywide, snow could be seen over the high-lying ground of the eastern half of the Eastern Cape.
In an alert for yesterday, the service said frost could be expected over the northern interior of the Western Cape in the morning.
On Monday, SAWS issued a yellow level 1 warning for disruptive snow over the mountains and high ground of the Eastern Cape, the south-western parts of the Northern Cape, the north-western parts of the Western Cape, and the extreme south-western parts of KwaZulu-Natal.
Residents were advised of very cold, windy and wet weather, with possible light snowfalls over the mountains in the Eastern Cape, Northern Cape, and the interior of the Western Cape.
Since the beginning of the week, areas across the Western Cape have been covered in a blanket of snow.
---
Mabel Banfield-Nwachi
Guardian
Tue, 12 Sep 2023 09:49 UTC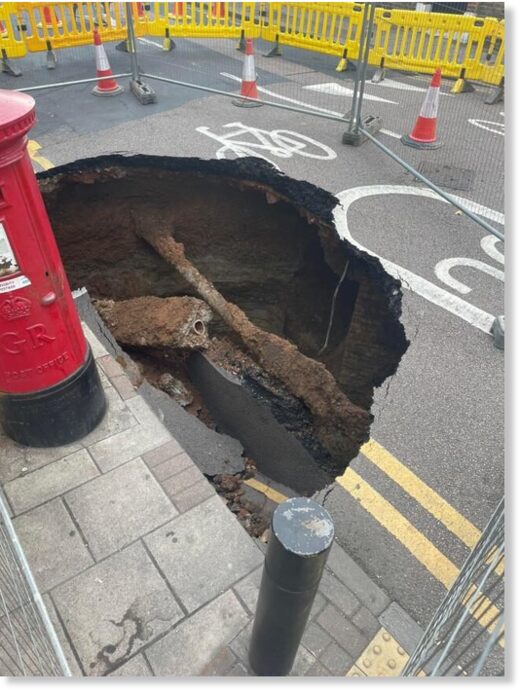 A sinkhole the size of a car has opened up on a street in south-east London.
The hole which takes up almost an entire lane of the road and runs alongside the kerb next to a postbox, emerged on Monday morning on Dunvegan Road, Eltham. The area around the hole has been cordoned off after locals initially used wheelie bins to prevent an accident.
Andrew Hudson, who posted a photo of the hole on Facebook, told people to be vigilant and warned of slow post over the next few days. He said: "Next to Mayday Cars cab office be aware!
"I feel sorry for anyone that has posted important letters in the post box there because they are not being collected anytime soon," he added.
---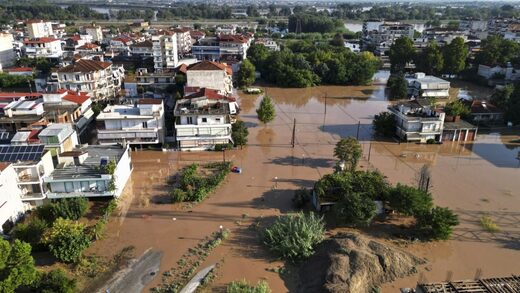 The number of
confirmed deaths from recent flooding in central Greece rose to 15
after the bodies of four people previously considered missing were found on Sunday, authorities said.
Three of the bodies were located in villages near the city of Karditsa in western Thessaly. They are an 88-year-old woman and her 65-year-old son, who were found in their home, as well as a 58-year-old man whose body was found between two villages.
The coast guard said Sunday that the body of a 42-year-old man, missing since Tuesday, was found floating in the sea near the city of Volos. He was last seen in his car unable to control it in raging waters.
---