Earth Changes
Chave weather
YouTube
Fri, 26 Feb 2021 09:24 UTC
---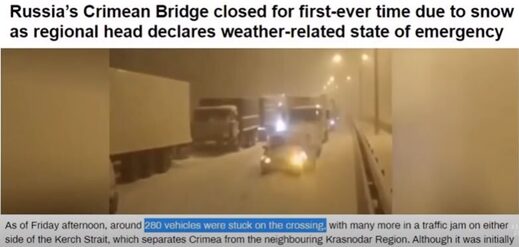 Unbelievably more infrastructure going down across the planet, Japan pipes collapse due to a six foot plus snowstorm cutting off water on Hokkaido. Europe's longest bridge closed due to too much snow fall. Oil prices up and exodus from the cities expected to continue for the next 24 months.
---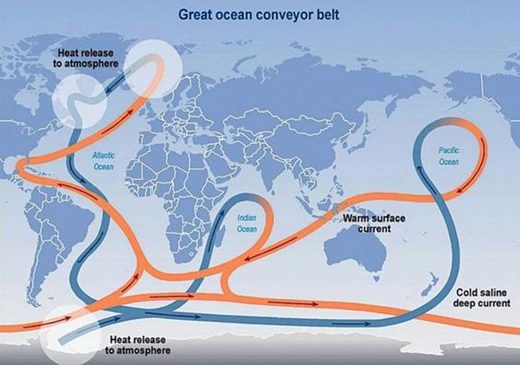 Never before in over 1000 years the Atlantic Meridional Overturning Circulation (AMOC), also known as Gulf Stream System, has been as weak as in the last decades. This is
the result of a new study by scientists from Ireland, Britain and Germany. The researchers compiled so-called proxy data - taken mainly from natural archives like ocean sediments or ice cores - reaching back many hundreds of years
to reconstruct the flow history of the AMOC. They found consistent evidence that its slowdown in the 20th century is unprecedented in the past millennium - it is likely linked to human-caused climate change. The giant ocean circulation is relevant for weather patterns in Europe and regional sea-levels in the US; its slowdown is also associated with an observed 'cold blob' in the northern Atlantic.
Comment:
For more information about cyclical climate change on our planet, see:
And check out SOTT radio's:
---
Scott Sistek
KOMO News
Fri, 26 Feb 2021 20:29 UTC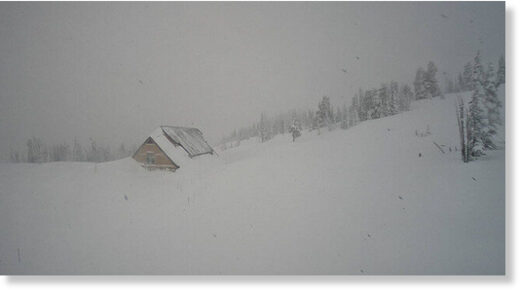 If your idea of Paradise is to frolic in several feet of snow, then the ranger station at Mt. Rainier is aptly named.
Paradise Ranger Station, at about 5,400 feet, typically sits under a massive snow blanket at this time of winter, but this La Nina winter, that blanket is especially thick.
Latest measurements show a snowpack up there of 225 inches (nearly 19 feet!) through mid-Friday morning with snow continuing to fall. That is over 4 FEET ahead of the average snowpack at the peak of the entire winter snow season -- usually around April 1.
In fact, if it holds close to that amount through the weekend -- which it should -- it will become the 6th highest snowpack on March 1 since records began there in 1927 and second-most since 1991, only behind the epic snow season of 1998-99.
---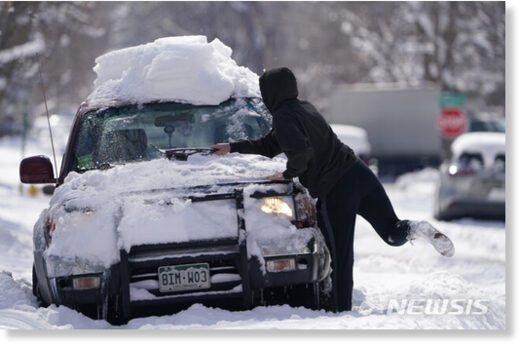 Residents of the Denver metro area went to bed Wednesday night expecting a typical light-to-moderate snowfall. But on Thursday morning, they awoke to as much as 16 inches.
Winter weather advisories advertising a run-of-the-mill snow event were quickly converted into warnings overnight as snow fell at rates topping two inches per hour.
Original forecasts called for an upslope snow event, which means air forced up the Front Range of the Rockies would deposit considerable snowfall at the base of the foothills. But that band ended up 20 miles farther east than expected, parking right over the heart of downtown Denver.
Between 10 inches and a foot fell in the city proper, with 15 inches reported in southeast Denver near Colorado Boulevard.
Englewood, a suburb just south of downtown, tallied 16 inches of snow.
---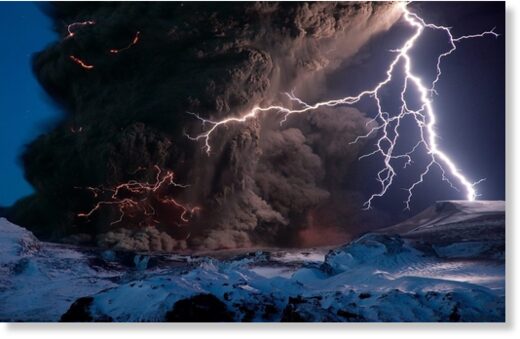 After days of unexplained delays and missing data, the FMI, DMI, and NSIDC charts we regularly use here at Electroverse have finally been updated — those in the AGW camp might want to look away...
NORTHERN HEMISPHERE SNOW MASS JUMPS TO 700 GIGATONS ABOVE 1982-2012 AVERAGE
The latest data point from the Finish Meteorology Institute's (FMI's) "Total snow mass for Northern Hemisphere" chart has been plotted, and it reveals pow-pow across the hemisphere as a whole - excluding the mountains - is riding at some 700 Gigatons above the 1982-2012 average:
---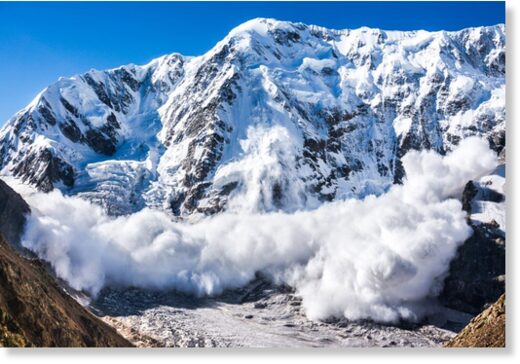 Two of three skiers escaped injury-free from incident near Valemount
A 35-year-old man has died as a result of an avalanche near Valemount this week.
RCMP say a Fernie, B.C. resident's body was found Wednesday (Feb. 24) after a 3.5-size avalanche was reported in the Swift Creek Valley around 2:55 p.m. on Tuesday (Feb. 23).
Robson Valley Search and Rescue (RVSAR) were called in as a trio of 'experienced' backcountry skiers got caught in the incident, two of whom survived the incident and didn't sustain any injuries.
---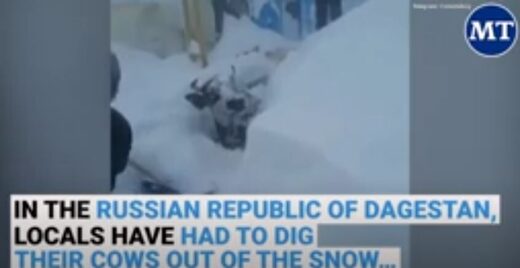 A 'snowpocalypse' has engulfed Russia in recent days, with various regions and cities struggling to deal with the freak weather.
In Chelyabinsk, a record-breaking blizzard left 30,000 people without electricity and over 10 districts declared a state of emergency.
In St. Petersburg, the heavy snowfall has prompted over 1,000 workers and cleaning machines to take to the streets to clean up the snow, and in the republic of Dagestan, locals even had to to dig their cows out of snowdrifts.
---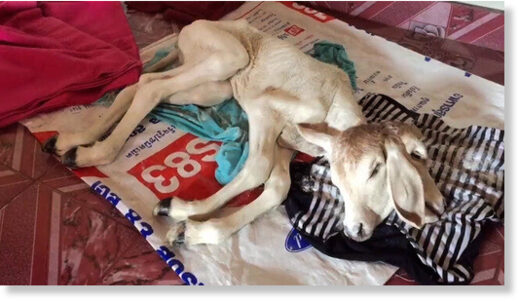 If you finally hit it big on the lottery, what would you ascribe your winnings to? Perhaps it was the fickle finger of fate that plucked you from the masses. Or, alternatively, perhaps you came into ownership of some kind of lucky talisman.
A villager in Thailand appears to believe the latter as he credits his £480 win on the local lottery from luck inherited after the birth of a malformed calf with two heads.
The poor creature was born with two sets of reproductive organs and an extra ear poking out in the middle of its two heads. Because of its deformities, it couldn't breathe properly and became too weak to eat. It died half an hour after being born.
(Video
here
)
---
Melissa Martin, Fiona Poole
abc.net.au
Thu, 25 Feb 2021 18:57 UTC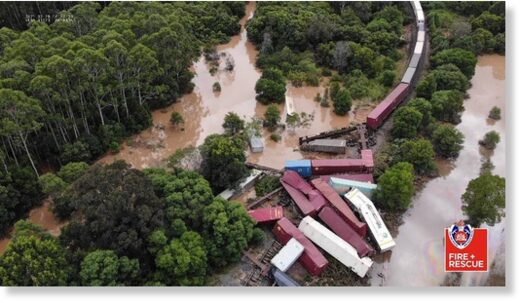 Residents have been stranded on the roofs of their homes in the NSW Mid North Coast, after more than 500 millimetres of rain fell in some areas.
The State Emergency Service was inundated with calls about 2:00am, predominantly from Corindi, 36 kilometres north of Coffs Harbour.
"The amount of rainfall just hasn't been able to get away and that entire Corindi floodplain area has come up rapidly and caught a lot of people unawares at that hour of the morning," said SES Coffs Harbour deputy unit commander Martin Wells.
Mr Wells said in one street, there had been eight calls for help.
"We've had families sitting on roofs in Corindi awaiting assistance and it's just been a real challenge to get to everyone."
---