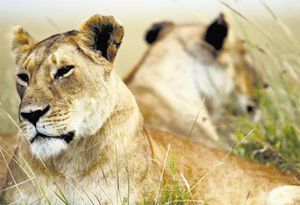 Conservationists call for ban after 'staggering' number of deaths
Conservationists in Kenya are calling for a deadly pesticide to be banned after it was linked to the poisoning of a "staggering" number of lions and other wildlife.
The East African nation famous for its immense game reserves is also home to traditional cattle herders whose livestock often comes under threat from predators such as lions and hyenas. In the past, this has seen lions shot or speared but more recently herders have switched to using deadly chemicals sprinkled over animal carcasses and left as traps for the big cats.
The lion researcher Laurence Frank, from the University of California, said lions were dying at a "staggering rate" with as many as 75 poisoned in the past five years. Combined with other threats including loss of habitat, this could eventually see the lion become extinct, Dr Frank told CBS's
60 Minutes
.