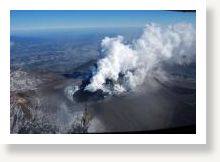 Tokyo - Hundreds of people living near a Japanese volcano that has been spewing columns of smoke and ash thousands of metres into the air were forced to evacuate their homes Monday, a local official said.
More than 600 residents of the town of Takaharu in Miyazaki prefecture, on the eastern outskirts of the erupting Mount Shinmoedake, were sheltering in school gyms and community halls, an official said.
Municipal authorities had issued an evacuation advisory for 1,158 residents in high-risk districts near the 1,421-metre (4,689-foot) volcano earlier Monday.
The mountain in the Kirishima range in southwestern Japan has been belching smoke and ash into the air since late Wednesday, according to the Japan Meteorological Agency.
The agency has widened the area that it fears could be hit by a torrent of high-temperature gas and ash from two kilometres (1.24 miles) to three kilometres from the peak.
It added that the dome of lava inside the volcano's crater, which grows as pressure increases from below, was now five times larger than it had been on Friday.
The volcano's first major eruption for 52 years has seen train services and flights suspended in the area. Television footage showed the volcano billowing grey smoke into the sky, as residents cleared ash from streets with shovels.
A nearby observatory has raised its five-scale warning level on the volcano from two to three, restricting access to the entire mountain.
In April last year the eruption of the Eyjafjoell volcano in Iceland dispersed a vast cloud of ash which triggered a massive airspace shutdown that affected more than 100,000 flights and eight million passengers.