Africa and Europe get about 4 mm closer every year in a northeast convergence direction. The exact position and geometry of the boundary between the African and Eurasian plates is unknown, but it is located near the Gibraltar Arc - an area of intense seismic activity which was not studied deeply until now.
A group of researchers from the Andalusian Institute for Earth Sciences (CSIC) and the Department of Geodynamics of the University of Granada (UGR) described for the first time the physical and mechanical properties of the uppermost part of the Earth's crust - to a depth of 30 km which is where the highest magnitude earthquakes occur.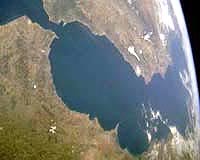 ©Unknown
The researchers characterised a region of intense deformation in which the relative movement of blocks is caused by left-lateral strike-slip faults known as "the Transalboran fault system," which expands from Murcia (Spain) to Alhucemas (Morocco). The other significant fault of the Gibraltar Arc area, which crosses the Transalboran fault perpendicularly, is called Nerja-Yusuf and goes from Malaga (Spain) to the Algerian coast.