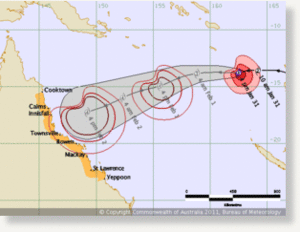 The state of Queensland, still reeling from the effects of weeks of widespread flooding, is bracing for the arrival of what could be the state's worst cyclone in history.
Tropical Cyclone Yasi, which currently lies northwest of Vanuatu in the Pacific Ocean, is expected to strengthen into a category four storm, the second highest category, before hitting the north coast of the Sunshine State later this week.
In preparation for its arrival, tourist resorts on the popular Whitsunday Islands have been evacuated and several ports along the busy coast have been shut down. Residents in towns from Innisfail to Mackay have been warned to batten down the hatches or consider fleeing before the storm hits early on Thursday morning, while emergency management teams have held meetings across the state's north.
Authorities have also warned locals to stock up on food, water, batteries and other essentials in case they are cut off for a number of days after Yasi strikes.
There are fears that Yasi could whip up the seas and create a storm surge that would cause significant flooding in low-lying areas, just weeks after devastating floods killed more than 30 people and covered an area the size of France and Germany combined.
Anna Bligh, the state's premier, said the cyclone was "a very serious threat".
"It may well be one of the largest and most serious cyclone threats we have ever had to deal with," she said.
"This is an event we have to take seriously. I know cyclones can at the last minute turn off the coast, and I certainly hope this one does.
"But the bureau advises me in the most serious terms, that all of the modelling right now says this is going to cross our coast."
Queensland is in the middle of cyclone season and escaped major damage when Cyclone Anthony, crossed the coast on Sunday.
However, Cyclone Yasi - dubbed Anthony's "big ugly sister" - is expected to be far more powerful.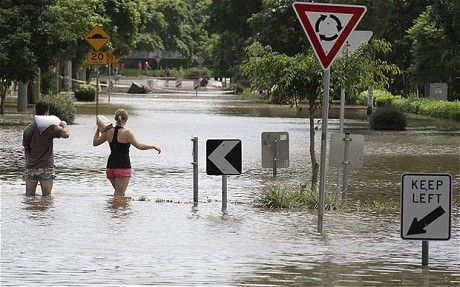 Forecasters have predicted that the storm could bring winds of 160mph - putting it on a par with Hurricane Katrina - and up to four feet of rain in a matter of hours. It is feared that the system could be worse than Cyclone Larry, which devastated the town of Innisfail in 2006 causing $1bn worth of damage.
Large swaths of northern Queensland are still saturated and authorities fear that heavy rain from the cyclone could cause further inundation.
The Bureau of Meteorology has issued a cyclone warning covering a huge section of Queensland's coast stretching 560 miles - nearly the length of Britain.
The most destructive storm in Australian history was Cyclone Tracy, which in 1974 flattened Darwin, killing 65 people and leaving only about 400 of the city's 11,200 houses intact.