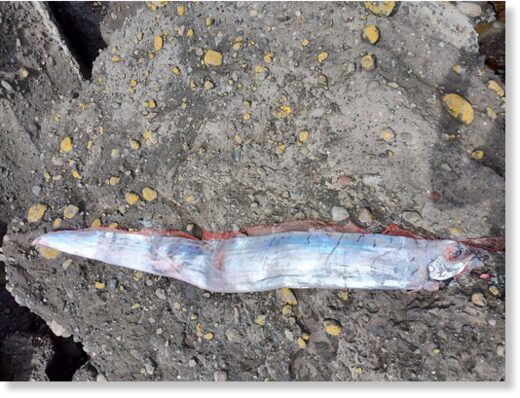 It's a deep-sea harbinger of doom.
Locals were flabbergasted after a 15-foot oarfish — which is rumored to be a sign of impending earthquakes — drifted ashore on a beach in Chile. A video of the alleged oceanic bad omen is currently making waves online as viewers worry about a possible seismic event, Jam Press reported.
The massive oarfish — which is the world's largest bony fish,
capable of growing to 56 feet long
— washed up on the coast of Isla Talcán in Chile's Desertores Islands. Footage captured the tremor-predicting denizen of the deep, which has silver scales, a fiery orange head tassel and a dorsal fin traversing its body from head to tail.
This sighting was particularly rare given that the species generally reside at depths between 656 and 3,200 feet below the ocean's surface. In fact, many people believe that oarfish strandings are signs that an earthquake is around the corner.