Earth Changes
Nature News
YouTube
Sun, 29 Nov 2020 14:41 UTC
Comment:
Images from the city of Norilsk on
social media, November 29
: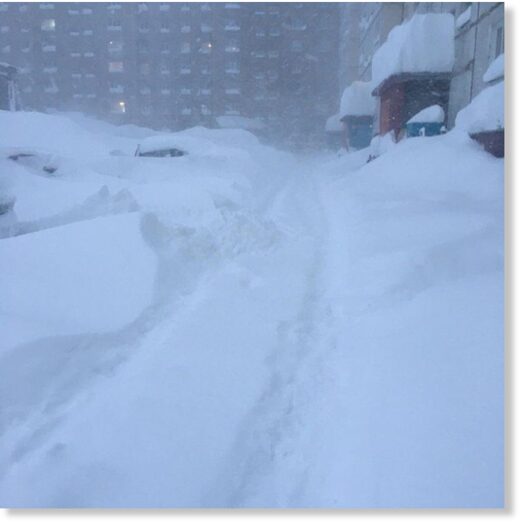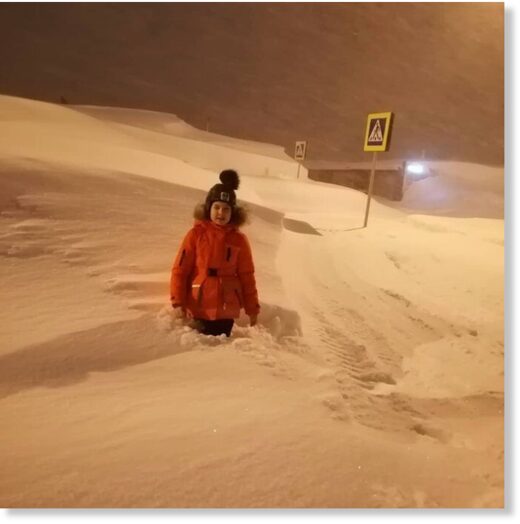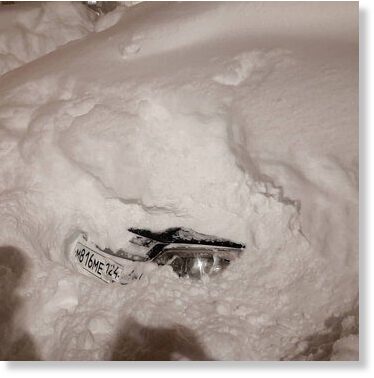 ---
ZimEye
Sun, 29 Nov 2020 11:23 UTC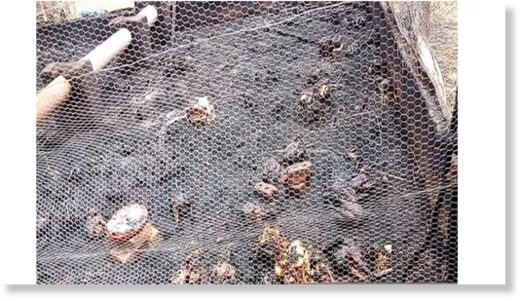 A Ntabazinduna farmer was left counting her losses when her 1, 000 chickens that were due to be delivered to the market, were struck by a bolt of lightning last week.
This comes amid warnings of more violent storms in the Matabeleland region starting tomorrow by the Meteorological Services Department (MSD).
Ms Sidumisile Mathe of Mahaja village in Ntabazinduna last Tuesday saw the world crumble in front of her when a lightning bolt struck her fowl run, killing all her 1 000 chickens
. The chickens were due to be delivered to the market last Friday, as she had already got a potential buyer for the entire lot.
"It all happened on Tuesday around 4pm, it began to rain heavily and I was with one of my helpers trying to secure the fowl run. We then left for the main house and that is when a bolt of lightning struck the fowl run, it was like a huge ball of fire. It was scary.
I immediately rushed back to the fowl run screaming for help, neighbours came through as they initially thought that maybe the lightning had struck while we were inside the fowl run because we would spend most of our time in the fowl run," said Ms Mathe.
---
Volcano Time-Lapse
YouTube
Sat, 28 Nov 2020 11:11 UTC
---
Atolo Kecil
YouTube
Sun, 29 Nov 2020 10:53 UTC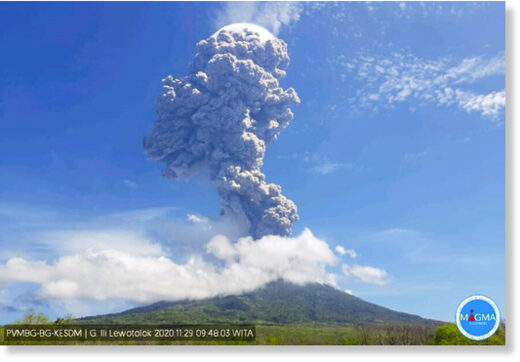 After almost an eight years calm period with little seismic or no activity, when the volcano's last eruption occurred in January 2012, it seems to have picked up again today at high levels.
PVMBG recorded a continuing phase of large ash emissions with small amount of gas and steam that started today at 05:57 local time. A dense gray-black ash plume rose 1,640 ft (500 m) above the summit and drifted west.
The seismic station recorded increasing seismic activity (11 VT earthquakes) associated with this process including periods of high amplitude tremor.
The warning bulletin states that ballistic impacts of volcanic bombs and pyroclastic flows and lahars could affect an area of about 2 km distance from the main crater.
Source: Pusat Vulkanologi dan Mitigasi Bencana Geologi volcano activity update 28 November 2020
---
RT
Sat, 28 Nov 2020 21:19 UTC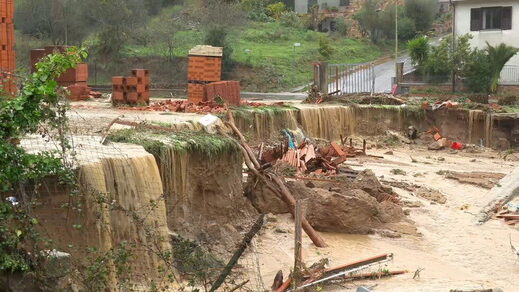 At least three people have died and two more are missing as the Italian island of Sardinia has been battered by storms for two days in a row. The extreme weather has caused flooding and landslides in several areas.
Shocking footage has been posted by residents of the town of Bitti located in Sardinia's Nuoro province. Roaring floods of mud and water can be seen rushing through the narrow streets of the town, carrying loads of floating debris with them.
After the flood, the town's streets could be seen covered by a thick layer of mud with damaged cars scattered around the area. The town mayor, Giuseppe Ciccolini,
called
on residents to exercise "extreme caution" amid heavy rainfalls expected to last until early Sunday. He also ordered some parts of the town to be evacuated. Still, two men and a woman fell victim to the severe flooding in Bitti.
---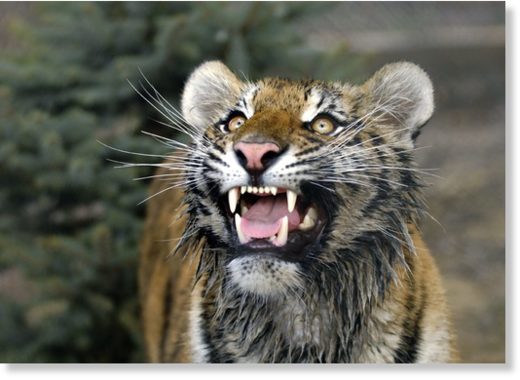 Royal Bengal tiger strayed into Tezpur town in Assam on Tuesday and
attacked scores of people injuring two of them.
The video of the incident has gone viral on social media.
The incident that took place on the outskirts of the Tezpur town has caused panic in the area. The tiger is still said to be out in the open.
As the news about the tiger attack broke out, forest officials rushed to the spot to control the situation. Officials suspect the big cat may have strayed out of the Kaziranga National Park or Nameri National Park and Forest Reserve.
---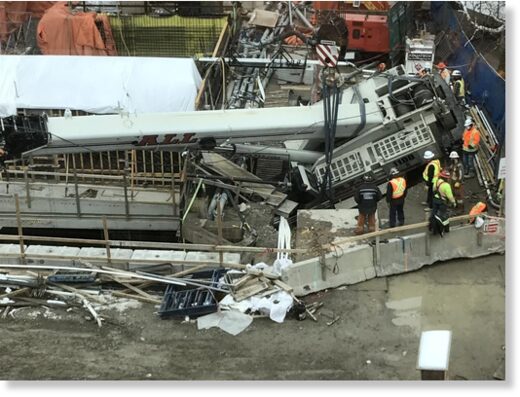 A mobile crane working on the Eglinton Crosstown LRT collapsed into the ground on Monday evening.
The incident occurred at Eglinton Avenue East and Mount Pleasant Road around 6 p.m.
Toronto Fire said the crane operator was not injured, while another worker suffered a minor injury.
On Tuesday, Metrolinx spokesperson Anne Marie Aikins said the injured worker slipped and bruised his knee and has been released from hospital.
---
Infotainment
YouTube
Fri, 27 Nov 2020 14:17 UTC
---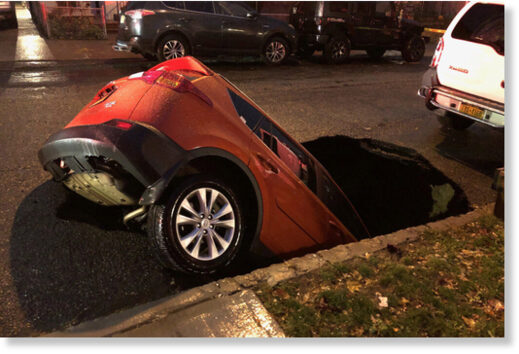 An unoccupied orange SUV was found swallowed by a sinkhole in Queens early Thursday morning.
The vehicle, a Toyota RAV4, was discovered nose-down in the massive sinkhole at about 6 a.m. on 70th Street near 52nd Avenue in Maspeth, authorities said.
The shocking sight from the residential neighborhood was shared to Twitter by City Councilman Robert Holden.
The FDNY said they responded to the location for reports of trauma. But it was determined there were no patients as the SUV was unoccupied.
The sinkhole led to several street closures in the area, Holden said.
---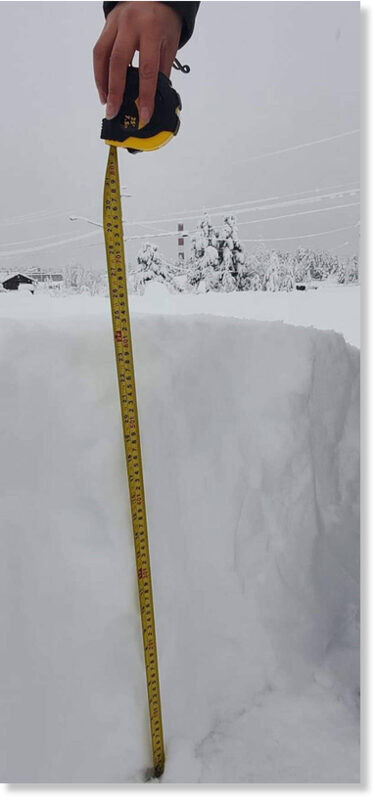 Graham West of Ulkatcho First Nation captures the scene on video
More than 60 cm of snow has fallen in parts of the Chilcotin since a snowfall warning went into effect Thursday, Nov. 26.
On Friday afternoon Graham West, a member of Ulkatcho First Nation near Anahim Lake, forwarded a photograph to the Tribune depicting a measuring tape with a snow level of 64 cm or two feet and one inch.
"Just got word the RCMP are on a snowmoblie with a nurse delivering meds to clients within the community," he said.
Earlier in the afternoon West said he hoped to get up on his roof to shovel because the snow was getting heavier.
---