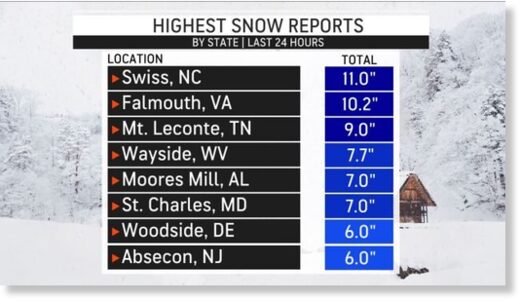 A quick-hitting blast of winter weather left several inches of snow blanketing parts of the Southeast, before spreading into the mid-Atlantic, where it shut down much of the nation's capital.
A dramatic weather pattern change marked the first days of 2022 across the Southeast and mid-Atlantic, replacing the 80-degree warmth in some locations with an all-out snowstorm. The onslaught of the first accumulating snow of the season for many left several cities along the East Coast nearly shut down, snarled traffic, left nearly 1 million without power on Monday and has been blamed for at least one fatality, according to officials.
The storm unleashed hefty snow amounts across parts of Tennessee and North Carolina, with accumulations climbing to 9.0 inches in Gatlinburg, Tennessee, and 11.0 inches in Swiss, North Carolina. Even areas as far south as Alabama were hit with a blast of wintry weather, and Moores Mill, Alabama, picked up 7.0 inches of snow.