Earth Changes
---
FA Weather
YouTube
Wed, 14 Sep 2022 09:31 UTC
---
---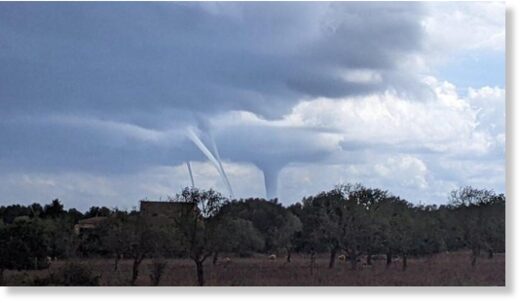 The storms which have hit various parts of Mallorca today created
four impressive waterspouts or marine tornadoes off Santanyí and all in a matter of five minutes, just like the flash storms and flooding which have hit interior parts of the island
like Inca and will continues into Saturday with isolated hail storms forecast as temperatures drop.
A waterspout is an intense columnar vortex (usually appearing as a funnel-shaped cloud) that occurs over a body of water.
Some are connected to a cumulus congestus cloud, some to a cumuliform cloud and some to a cumulonimbus cloud.
Comment:
The same news outlet also carried this
report
on the same day:
Storm batters Mallorca and causes serious flooding



Firefighters have rescued drivers trapped in their vehicles in Felanitx



Streets were turned into rivers, houses flooded and cars were swept away by the currents this afternoon.

Felanitx bore the brunt of the intense storms that hit Mallorca.

The damage caused has been considerable and emergency teams are still working on the ground.

"The cold air pocket at low levels has connected with the high levels and has coincided with wind convergence, a relative low and daytime heating", which has led to the heavy downpour, according to the spokeswoman for the State Meteorological Agency (Aemet) in the Balearics, María José Guerrero.

After the morning's deceptively good weather, the weather took an abrupt turn at 13:45h, giving way to a heavy downpour of water that flooded the town of Felanitx.

In less than an hour 135 l/m2 of rain fell.



The fire fighters were activated immediately and attended to a total of 28 incidents in the town until 17:30, all of them due to flooding.

Scores of people were rescued after being trapped in their vehicles caught in the storm on the road from Felanitx to Porreres. They also had to attend to two young people who were walking down the street when the water level rose to a worrying level and the fire truck picked them up as a precaution.

The Council of Mallorca has reported that the Ma-4010 Felanitx-Portocolom; Ma-14 Manacor-Felanitx and Ma-5100 Felanitx-Porreres roads remain closed, due to the accumulated water. Firefighters continue to work on the ground, with 18 personnel and six vehicles from the Felanitx, Manacor, Llucmajor and Inca fire stations.

After attending to the most urgent services, they are now helping residents to drain the water from the numerous affected ground floors, basements, car parks and houses.

The Balearic president, Francina Armengol, has called for caution via Twitter.

"The administrations are in contact and we are working and acting in coordination".

Tomorrow, Saturday, more showers are expected, although not of such intensity.
---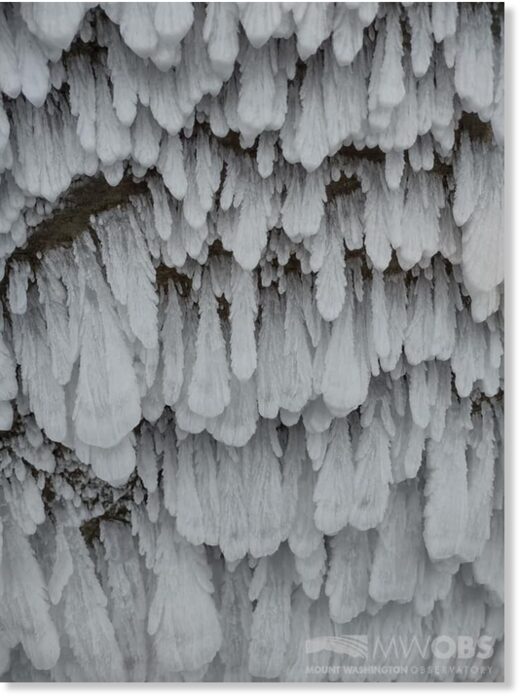 It's beginning to look a lot like winter atop New England's highest peak.
The Mount Washington Observatory on Thursday shared photos of an icy scene, with rime ice clinging to different structures at the summit.
"Winter bared its teeth and beauty this morning behind a strong cold front," the Observatory posted to social media.
---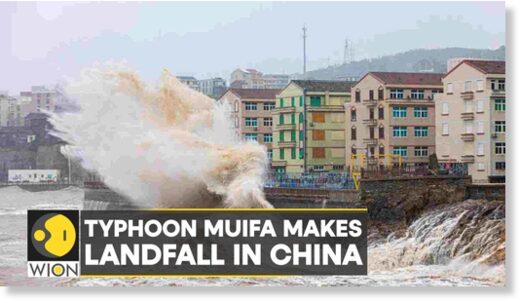 Heavy rains accompanied by strong winds caused by Typhoon Muifa lashed China's east coast on Friday. Around 1.6 million were forced to leave their homes and moved to safer locations, reported AFP. Most flights at Shanghai's main airports were also grounded.
Notably, Shanghai is home to more than 25 million people
. Muifa is reportedly the strongest tropical cyclone to hit Shanghai since the beginning of record keeping in 1949
. So far, there are no reports of any casualties due to Muifa.
According to CCTV, around 426,000 people were evacuated in Shanghai, while 1.2 million people were taken to temporary shelters in neighbouring Zhejiang province. Floods were reported in several areas of the Yangtze river delta region. Traffic jams were also reported in Shanghai due to intense rainfall.
---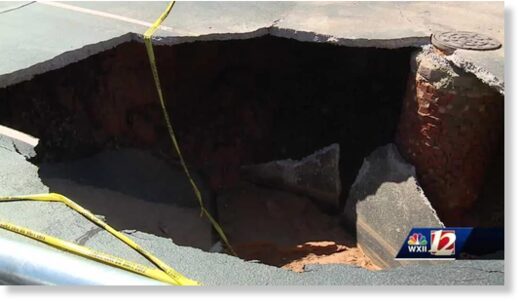 A woman in North Carolina escaped with just minor injuries after falling into a sinkhole at a Winston-Salem car dealership on Monday.
Kia Long-Gyant said the ground collapsed beneath her in the parking lot as she came out of the dealership.
The fire department safely got her out of the sinkhole.
She was hospitalized with scrapes and bruises, but no broken bones.
---
World Is Dangerous
YouTube
Thu, 15 Sep 2022 10:39 UTC
---
Olivia Devereux-evans
Daily Mail
Fri, 16 Sep 2022 09:38 UTC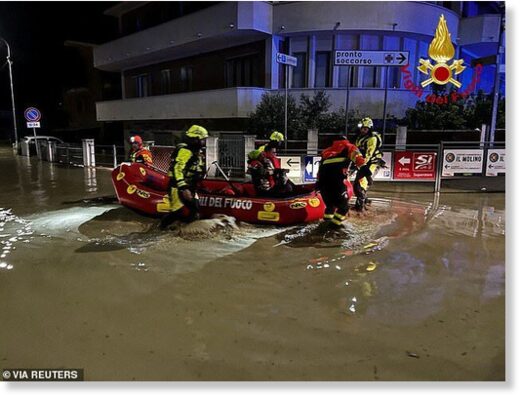 At least eight people have been killed and four others are missing after 16 inches of rain hit the central Italian region of Marche in just two hours, causing catastrophic floods.
Local authorities said they did not expect such a sudden 'water bomb', as around 16 inches of rain fell within two hours on Thursday night, inundating the streets of several towns in the Ancona and Pesaro-Urbino provinces.
'It was like an earthquake,' Ludovico Caverni, the mayor of the town of Serra Sant'Abbondio, told RAI state radio.
---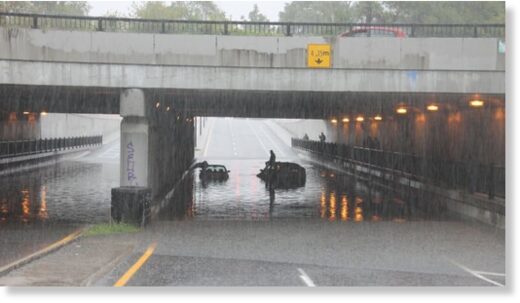 Anyone with the misfortune of being outdoors Tuesday afternoon in Montreal and surrounding areas was in for quite a shower.
A series of videos posted online show Montreal streets and métro stations flooding and pipes and sewers gushing copious amounts of water into the air as a heavy rainfall hit the city.
A rainfall warning issued by Environment Canada for the Montreal, Laval, Longueuil and Châteauguay areas said 50 to 75 millimetres are expected by Wednesday morning. The agency also said there is a risk of thunderstorms during the evening for the Montreal area.
---