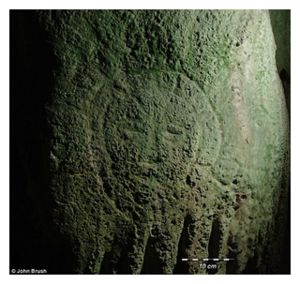 A team of scientists searching for fossils of giant rats from a prehistoric age have stumbled across an extraordinary 'gallery' of rock art portraits up to 12,000 years old.
The Australian researchers were exploring a large cave on the north-east tip of East Timor, which gained independence from Indonesia after a bloody conflict in 2002, when they were stunned to find, by chance, a row of engraved faces staring at them from the wall.
'Looking up from the cave floor at a colleague sitting on a ledge, my head torch shone on what seemed to be a weathered carving,' said Dr Ken Aplin of the Commonwealth Scientific and Industrial Research Organisation, based in Canberra.
'I shone the torch around and saw a whole panel of engraved prehistoric human faces on the wall of the cave.
'The local landowners with whom we were working were stunned by the findings.
'They said the faces had chosen that day to reveal themselves because they were pleased by the field work we were doing.'