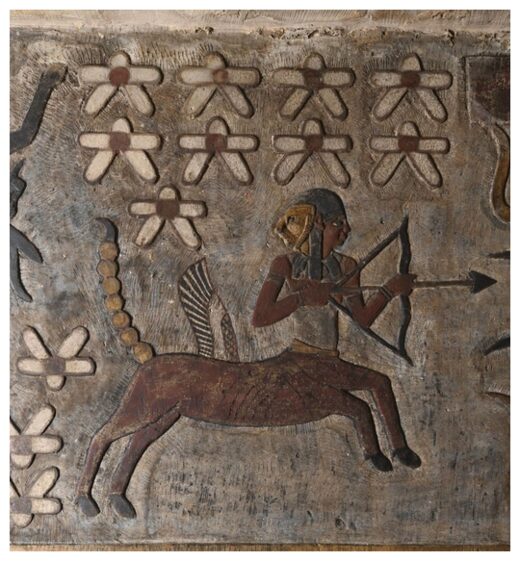 An Egyptian-German
research team has uncovered yet another series of colorful ceiling paintings at the Temple of Esna in Upper Egypt.
The researchers reported that the Egyptian restoration team, led by Ahmed Emam, succeeded in completely restoring and re-coloring a representation of the heavens. The images, executed in relief, include a complete depiction of the
signs of the zodiac.
Other reliefs show the planets Jupiter, Saturn and Mars, as well as a number of stars and constellations used in ancient times to measure time. The overall project is in the hands of Hisham El-Leithy of the Egyptian Ministry of Tourism and Antiquities and Professor Christian Leitz of the University of Tübingen.
"Representations of the zodiac are very rare in Egyptian temples," Leitz says, adding "The zodiac itself is part of Babylonian astronomy and does not appear in Egypt until Ptolemaic times." Researchers think the system of zodiac signs and their related constellations was introduced to Egypt by the Greeks and subsequently became popular. "The zodiac was used to decorate private tombs and sarcophagi and was of great importance in astrological texts, such as horoscopes found inscribed on pottery sherds," says Dr. Daniel von Recklinghausen, a Tübingen researcher. "However, it is rare in temple decoration: Apart from Esna, there are only two completely preserved versions left, both from Dendera," he says.