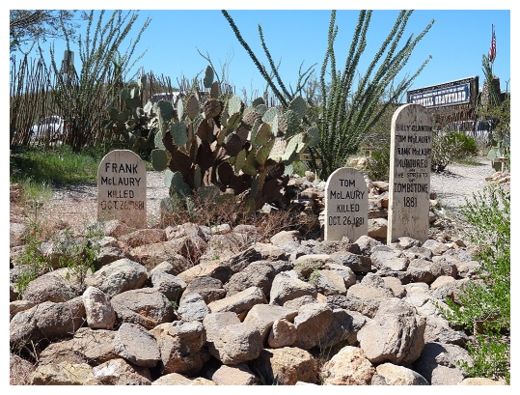 On Oct. 26, 1881, four men met at the corner of Fifth and Allen Streets in the bustling silver mining town of
Tombstone, Arizona
. They walked north on Fifth, turned left on Fremont Street and headed toward a vacant lot next to the
OK Corral
.
Minutes later, three men would be dead, and the four men who had walked to the corral and killed them - Tombstone marshal Virgil Earp, his brothers
Wyatt
and Morgan, and Wyatt's friend
Doc Holliday
- had unknowingly secured their places in history.
The Gunfight at the OK Corral is arguably the single most famous incident in the Old West. But what was it about? And why has it, above all the many other gunfights that took place in the era of frontier justice, achieved such infamy?
To understand the gunfight, you have to first understand the town. Tombstone in 1881 was a thriving, bustling silver mining community.
"There's a huge misconception about Tombstone in the 1880s: that it was a violent, dangerous place," says local author and historian Don Taylor. "It was extremely sophisticated and massively wealthy. Thirty-seven million dollars in 1880s dollars of silver was mined here; that's $8.25 billion today. They had everything.
"They had fresh seafood every day. They would catch it in Baja California; pack it in barrels of salt, ice and seaweed at dusk; freight it by train to Benson or Contention City, immediately pack it on to wagons and bring it here by dawn every day. It was a very opulent town. But again, people don't understand - especially if they come today - Tombstone was open 24 hours a day.
The miners worked rotating 10 hour shifts; everything had to be open when they got off, including banks. They were also pumping 2.5 million gallons of water out of the mines every day to keep them dry; so you had all the mining activity, all the milling activity, all the water rushing down Toughnut Street, and the town open 24 hours a day. It must have been noisy as hell."