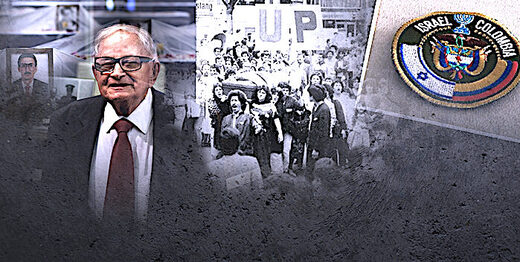 On April 6, 1984, a group of men dressed in police uniforms arrived at the home of Milcíades Contento in the town of Viotá, Colombia. Contento was a peasant, communist and member of the
Patriotic Union (UP),
a newly-formed experimental political party born out of the 1985 peace negotiations between the conservative President Belansio Betancourt and the guerrillas of the Revolutionary Armed Forces of Colombia, or FARC. The men seized Contento, tied him up and dragged him away. The next day, his corpse was found in a nearby village.
The murder of Milcíades Contento marked the beginning of a nearly two-decade extermination
campaign
.
From
1984-2002,
at least 4,153 UP members -
including
two presidential candidates, 14 parliamentarians, 15 mayors, nine mayoral candidates, three members of the House of Representatives and three senators - were
murdered or disappeared
, in what a Colombian court deemed was
a "political genocide."
According to data
presented
to the Inter-American Commission on Human Rights,
the purge claimed more than 6,000 victims through murders, disappearances, torture, forced displacement and other human rights violations.
From May 1984 to December 2002, not a month passed without a murder or disappearance of a UP member. In the 2002 elections that brought Álvaro Uribe to power, the Patriotic Union had been so thoroughly wiped out that it failed to meet the electoral threshold and the government removed the party's legal status.
According to a recent investigation by renowned Colombian journalist Alberto Donadio, the extermination of the Patriotic Union was devised by Betancourt's successor,
President Virgilio Barco Vargas,
implementing a plan concocted by of
one of the most decorated spies in Israeli history, Rafael 'Rafi' Eitan.