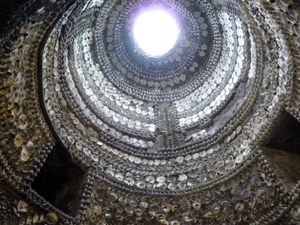 The Margate Shell Grotto, a winding underground passageway in Kent, England, decorated with nearly 4.6 million seashells, is one of the greatest unsolved mysteries in the world.
Legend has it that in 1835, James Newlove and his son, Joshua, were digging a duck pond in Margate, Kent, when they noticed a hole in the ground. Newlove then lowered his kid down there to check it out, according to BuzzFeed.​
The hole turned out to be caverns connected together by several underground tunnels with walls covered in intricate mosaics made out of millions of seashells (video below).
The shells in the grotto include scallops, mussels, limpets, whelks, cockles, and oysters, all of which can be found locally. In all, there are more than 2,000 square feet of shell mosaic in the grotto, according to Viral Nova.