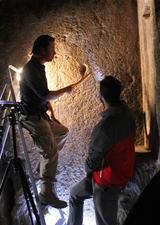 Cut in the rock and consisting of two rooms, the walls of which are covered with poorly preserved decoration and hieroglyphic inscriptions: a team of archaeologists working under the auspices of the Polish Centre of Mediterranean Archaeology of the University of Warsaw started research in the ancient temple at Gebelein in Upper Egypt.
This place was already known to the local authorities, but so far no archaeologist has studied it. Previous researchers could have been discouraged by the poor condition of the decorations. This year's results of Polish research were surprising.
"This temple was dedicated to two gods. There is no doubt that one of them was Hathor, with the cult epithet Lady of Gebelein. The other deity could be Amun-Ra. Unfortunately, his depictions are not preserved and further studies are needed to verify this idea" - explained Daniel Takács, a member of the expedition.