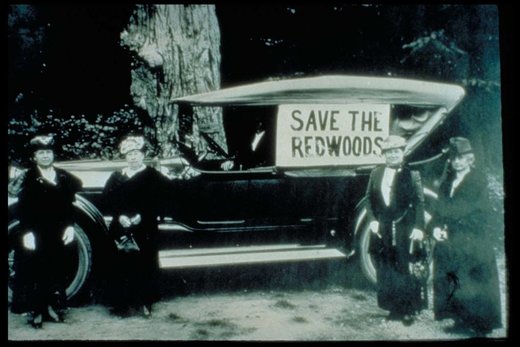 On August 8, 1919, Save the Redwoods League founders Madison Grant and Stephen Mather spoke to a packed auditorium in the Northern California mill town of Eureka. They had driven up from San Francisco, where the League had just held its first Board meeting, and they called for local support of the League's mission to protect the redwoods. To their great surprise, they received a wildly enthusiastic response.
Why were hundreds of citizens of Humboldt County, the epicenter of redwood logging operations, so receptive to this message of conservation?
In large part, because another influential group had been working to raise awareness of redwoods preservation in the area for years: It was the women of Humboldt County who sparked the earliest awareness and action for preserving old-growth coast redwoods in Northern California.
Keep in mind that at the turn of the 20th-century, the culture and norms of the Victorian era still dominated, and there were few ways for women to engage outside the domestic sphere. So all across the country, women formed clubs to find creative means of civic engagement and community leadership, and in the still-very-wild West, women's clubs developed around fostering "civilized" behavior in pioneer country.
Through these clubs, women exerted a discreet and lasting influence on the future of the developing West. Fortunately for the iconic redwood forest, in California, women's clubs were on the forefront of forest policy reform. In 1900, when the California Federation of Women's Clubs was founded, it had just two standing committees: one for education, and one for forestry.