Discovered by archaeologists in 1952, a 28-foot-high stone tower discovered on the edge of the town of Jericho has puzzled scientists ever since. Now, 11,000 years after it was built, Tel Aviv University archaeologists at the ancient site Tel Jericho are revealing new facts about the world's first "skyscraper."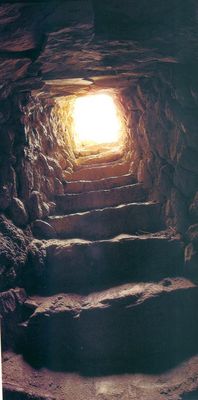 Recent computer-based research by doctoral student Roy Liran and Dr. Ran Barkai of Tel Aviv University's Jacob M. Alkow Department of Archaeology and Ancient Near Eastern Cultures at the Lester and Sally Entin Faculty of Humanities sheds light on who built the 28-foot-high tower - and why.
The researchers note that this is the first instance of human beings erecting such a tall structure, even before the transition to agriculture and food production in the region. Liran and Dr. Barkai now believe that the tower, which required about ten years to build, is an indication of power struggles at the beginning of the Neolithic period, and that a particular person or people exploited the primeval fears of Jericho's residents in persuading them to build it. The new revelations about the ancient tower were recently published in the journal Antiquity.
"In the newly published article, we present a new and exciting discovery," Liran and Dr. Barkai said in a joint statement, "which is connected to the exact position of the tower on the edges of the village of Jericho, and the shadow that covers the site when the sun sets on the longest day of the year."