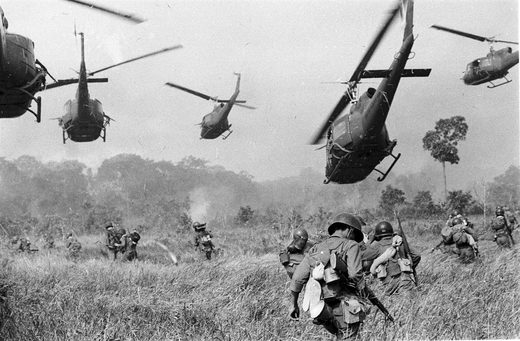 As the US rolls into the 16th year of its 'longest-ever' war, in Afghanistan - ostensibly against the Taliban, although no one really knows who they are anymore - and appears to be seriously considering another large-scale intervention on the Korean peninsula, it's worth recalling what took place the last time US forces amassed in East Asia.
The Vietnam War - known by Vietnamese as 'the American War' - was a long, protracted, bloody mess. Most histories of the war say it lasted either 10 or 20 years, depending on what phase is taken as its starting point: large-scale, regular US military forces were engaged from 1965 to 1975; alternately, US military 'advisors' under the auspices of the CIA first intervened there in 1955. But there was an earlier phase still to this war, one that blends it into occupation by imperial France, and WWII occupation by Japan before that.
At 20-30 years, this would certainly make Vietnam, and not Afghanistan, America's 'longest war'. In any event, some 2,600,000 American soldiers rotated through Indochina in the 1960s and 70s,
58,000 of whom lost their lives
, while to up to
3 million Vietnamese
died.
In most accounts of the war, it is represented as a relative blip in American history, a fight lost against a guerrilla communist force known as the 'Vietcong', an enemy comprising elusive forces capable of surprising and surrounding helpless American soldiers, then disappearing into the jungle as quickly as they appeared. They would use local inhabitants and villages as human-shields so that American napalm and machine-guns couldn't tell the difference between friend and foe. At least, that's one take on it.