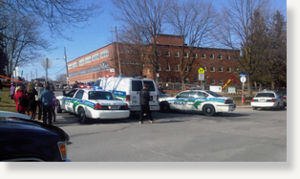 A man armed with a rifle was arrested after he entered a classroom at an elementary school in Buckingham, Que., police said.
Gatineau Police said the man, brandishing a sawed-off 22-calibre rifle, entered a classroom at École St. Laurent filled with about 25 students, but was arrested a short time later and was co-operative.
No one was injured and no shots were fired, but the school was in lockdown.
Gatineau Police spokesman Const. Pierre Lanthier told CBC News the man was about 30 to 35 years old and was not a parent of any child at the school.
Police responded to a call at 2:13 p.m. from school staff that a man was spotted inside the school with a gun, and arrived within 15 minutes, Lanthier said.