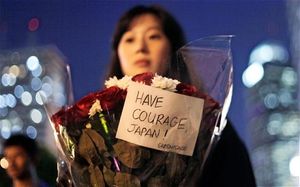 Workers at Japan's earthquake hit nuclear plant lost ground in the battle to save the plant from meltdown after the radioactive core of one reactor appeared to have melted through the bottom of its containment vessel.
The core at reactor two of the Fukushima plant may have melted on to a concrete floor, according to experts, running the risk of radioactive gases being released into the surrounding area.
Richard Lahey, who was a head of reactor safety research at General Electric when the company installed the units at Fukushima, said the workers, who have been pumping water into the three reactors in an attempt to keep the fuel rods from melting, appeared to have "lost the race" to save the reactor.
"The indications we have ... suggest that the core has melted through the bottom of the pressure vessel in unit two, and at least some of it is down on the floor of the drywell," he told a newspaper.