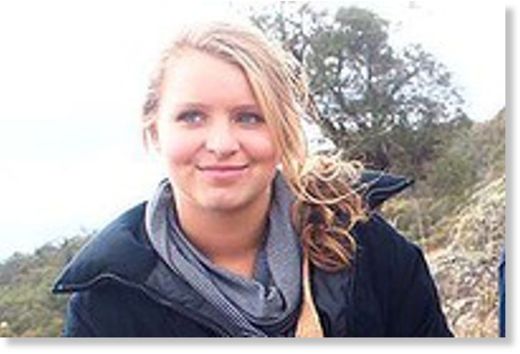 An Australian man has been arrested in the United States over the Madeleine Pulver collar-bomb hoax on Sydney's north shore two weeks ago.
Eighteen-year-old Ms Pulver spent 10 hours with a fake bomb chained to her neck at her family's Mosman home.
Paul "Doug" Peters was arrested by FBI agents, after a request by New South Wales detectives, at his ex-wife's home in the US town of La Grange, north-east of Louisville in Kentucky early this morning (Australian time).
Police say 50-year-old flew out of Australia on August 8, five days after Ms Pulver was targeted.
Assistant Commissioner David Hudson says the man was an Australian citizen who travelled for business between Sydney and the US, and had family in both countries.
"He's an Australian citizen, known to commute between here and the United States," he said.
Assistant Commissioner Hudson says police are confident the man is the person who broke into the Pulvers' house and shackled Madeleine to the fake bomb collar.
"We'll be alleging through the courts that the suspect we've arrested this morning was responsible for entering the Pulver home and placing the device around Madeleine's neck," he confirmed.
The man, who lived in Sydney when he was in Australia, had been in Australia for about six weeks before the attack.
Assistant Commissioner Hudson says while the suspect is not directly known to the family, police have discovered links between him and the Pulvers.
"There are some links between the suspect and the family, however no direct links and that's still a matter of investigation," he said.
"The actual ins and outs of motive and everything else are yet to be determined and that's part of our ongoing investigation."
He says the man was not a suspect until after he left the country, and was surprised when police made the arrests.
"He became a suspect to us once he had left, the circumstantial evidence we were going through at the time didn't identify the suspect [before he left]," he said.
Speaking in Kentucky, NSW Detective Superintendent Luke Moore said the Australian-born man would face a US Federal Court tomorrow morning, local time.
"The FBI affected the arrest. I believe Mr Peters was the only person in the home at the time," he said.
Superintendent Moore says they will seek his extradition as soon as possible, and he faces charges including kidnapping, break and enter and demanding property with menaces.
Gratitude
Ms Pulver's father Bill Pulver made a brief statement thanking police for their efforts.
"On behalf of Maddie and the entire family, we are enormously relieved that an arrest has been made in the United States overnight," Mr Pulver said.
"This past two weeks has been a very difficult time for us and we are hopeful that this development marks the beginning of the end of this traumatic ordeal for our family.
"This has been a baffling and frightening experience. It has tested us all.
"Our priority as a family has been to provide a loving and supportive environment to Maddie, and try as best we can to get her life back to normal."
The incident made international headlines when police were called to the Pulvers' Mosman home, to find Madeleine alone with what appeared to be a bomb strapped to her neck.
It took police over 10 hours to safely remove the device from around her neck.
In the aftermath of the attack the Robbery and Serious Crime Squad was put in charge of the investigation, which focused on whether the hoax was an extortion attempt.
The Pulvers are widely known in Sydney's media and marketing community, and Madeleine's father, Bill Pulver, is a successful executive with a background in data management.
It was reported that a note left with the device made no specific demands for payment, and referenced a character from the James Clavell novel
Tai-Pan
.