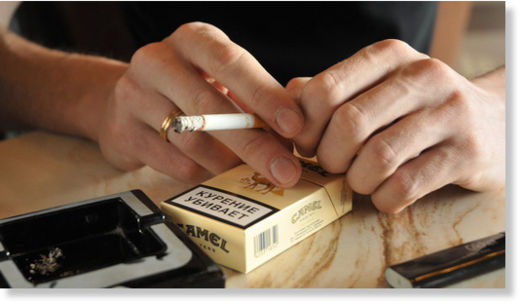 By the end of the year, the Ministry of Healthcare and Social Development will submit a bill to the State Duma that could introduce serious complications into the lives of Russian smokers. Cigarettes will become more expensive, they will only be sold in large stores and smokers will be able to light up without considering the people around them in their own apartments and on the street. Experts maintain that the new standards conform to the framework of the WHO Convention on Tobacco Control, which was signed by 157 countries, and they hope to reduce the number of smokers in Russia.
Smokers are driven into their homes
Beginning in 2014, a total smoking ban may be imposed in long-distance trains and cruise ships. The ministry's press service reported on this Friday evening, as well as on other measures to curb smoking, having laid out the content of a new bill on protecting public health against the harmful effects of tobacco use.
Smoking rooms in airports will be abolished. Smokers will have to stand 10 meters away from train stations and airport buildings. According to the report, officials are also suggesting a smoking ban in prisons and pre-trial detention centers.
Starting in 2015, smoking will be prohibited in restaurants, cafes, night clubs and hotels.
Smoking on the landings of apartment buildings will be allowed, but only upon obtaining the written permission of the residents of all units around an entrance. The result is that smoking will be legal only inside one's home or in the street.
Starting in 2013, the sale of cigarettes in small shops and kiosks will be prohibited. They will be sold only in large stores - those with an area of over 50 square meters. Even in big stores, cigarettes will not be on display, and customers will have to choose their brand by looking at a price list.
The bill could impose a total ban on smoking ads and deprive tobacco companies of the right to sponsor events.
Excise duties will make up half the cost of a cigarette pack
Excise duties on tobacco will be increased as well. Their share in the retail price is expected to be increased to 50%. As a result, the price of the cheapest pack of cigarettes available, which is now below 20 rubles, may triple. Vadim Zhelnin, general director of the Tabakprom Association, said: "On average, excise duties account for about a quarter of the retail price of a cigarette pack. They are up to 50%-60% in packs of cheap cigarettes without filters that cost less than 20 rubles."
Tobacco manufacturers will be ready to comment on the specific articles of the bill after they have had a chance to study it.
Retailers say shops are ready for the reform. "Tougher restrictions on cigarette sales have been expected, and big chains are ready for it," Ilya Belonovsky, executive director of the Retail Companies' Association (AKORT) told RIA Novosti. "Cigarettes make up an important category of goods but their share in a shop's overall turnover should not be exaggerated. Cigarettes do not bring in the bulk of profits for a chain store - this isn't milk and sausages." According to Belonovsky, cigarettes account for 2%-5% of sales in retail chains.
It will be much more difficult for small businesses, because the share that cigarettes make up in overall sales is much bigger in tiny shops and kiosks, he said.
If the law imposes restrictions for selling cigarettes based on the area of shops, half of Russia's retail outlets will lose the right to sell tobacco products, Belonovsky said. At least half of all tobacco vendors are small shops and kiosks.
The power of visual imagery
Medical workers hail the bill as "absolutely positive."
"Everything aimed at destroying the positive image of cigarettes is a good thing," Oleg Zykov, assistant professor of the Sechenov Medical Academy's Narcological Department, told RIA Novosti. "There should be no tobacco display windows. It's disgusting when a person is standing by a cash register and sees all this filth at eye level."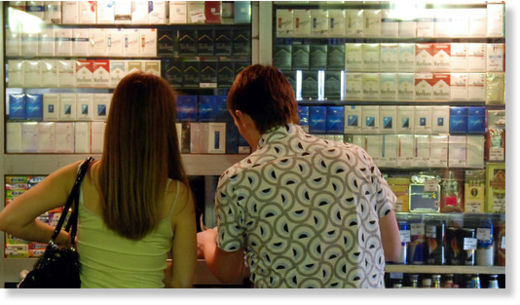 In order to withdraw cigarettes from their visual imagery, it is necessary to limit the places where they are sold as much as possible. "It would be best if cigarettes were only in chain stores, in a corner," Zykov said. "Their prices could be available in special magazines. Consumers of legal age would choose a brand with which they plan to poison themselves and salespeople would bring their cigarettes from a store room."
Zykov believes that kiosks and small shops must not be allowed to sell cigarettes, and that their prices must be increased. "If a pack costs 200 rubles, most children would not be able to afford it," he noted.
"If the pathetic inscriptions about the harm of smoking are replaced by horrible images, children will smoke less because visual imagery is especially powerful for them," Zykov explained. "People who have been smoking for 20 or 30 years could not care less about the words on a pack, or whether there is a picture of a horrible face or a corpse. But for children, who think in images, this is of crucial importance."
It is also important for the anti-smoking struggle to establish negative associations, such as health risks, a lack of success in life and other losses. All of these images have an influence on the systemic choices that people make.
The advertizing of beer, which is only recently considered alcohol in Russia, is a striking example of how visual images can affect choice. "During years of inaction we have raised a generation that 'goes for Klinksy beer,' " Zykov said. "This generation has not emerged on its own - it is the result of an image in which beer was visually associated with success, celebrations and hanging out with friends. These pictures advertized not a beer, but a way of life." The same principle holds with any psycho-active substances, the expert emphasized.
Planned action
According to Rospotrebnadzor (the service for the oversight of consumer protection and welfare), almost 44 million people in Russia, or more than 39% of the population, are smokers. More than 60% of men between the ages of 19 and 64, and over one third of women between 19 and 44 are tobacco-dependent.
Up to 400,000 people (or 17% of all deaths in the country) die each year from smoking-related diseases.
According to Rospotrebnadzor, in the last 15 years, since 1995, cigarette production in Russia has increased considerably. In the mid-1990s Russia produced 499 cigarettes per capita, while in 2010 that figure had reached 2,838.
The plans to toughen regulations for the sale of tobacco and to prohibit smoking in public spaces have been discussed for a long time. In April 2008 Russia joined the above-mentioned WHO convention. Over the next five years it must tailor its legislation to conform with this document. The bill currently under review should serve this purpose.
The views expressed in this article are the author's and may not necessarily represent those of RIA Novosti.