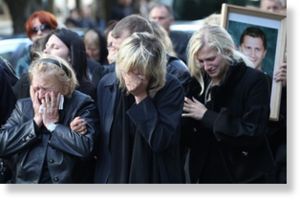 The only member of a top Russian hockey team to survive a plane crash that killed 44 people died Monday of his injuries in a Moscow hospital.
The Vishnevsky hospital said 26-year-old Alexander Galimov died of the severe burns that covered about 90 per cent of his body, despite the best efforts of doctors in its burn unit, considered one of the best in Russia.
The crash Wednesday of a chartered Yak-42 jet outside the western city of Yaroslavl took the lives of 37 players, coaches and staff of the local Lokomotiv Yaroslavl ice hockey club. The only other person to survive, flight crew member Alexander Sizov, remained in intensive care at Moscow's Sklifosovsky hospital.
Unlike many other members of Lokomotiv who were European Union citizens and once played in the NHL, Galimov was a native of Yaroslavl and a product of its youth program.